The Olympics and Paralympics are about so much more than winning. I've been focusing on the Olympic and Paralympic values for character education. I shared songs about the core Olympic values of respect, excellence, and friendship. Now I'm focusing on the Paralympic values. I already shared songs about the Paralympic values of  determination and courage. Today, I'm focusing on the Paralympic value of equality. I'm including fairness, too, when the song is about fairness and equality.
You'll find songs here about a number of different equality issues and for a variety of ages. Choose the ones that fit your children's/students' needs.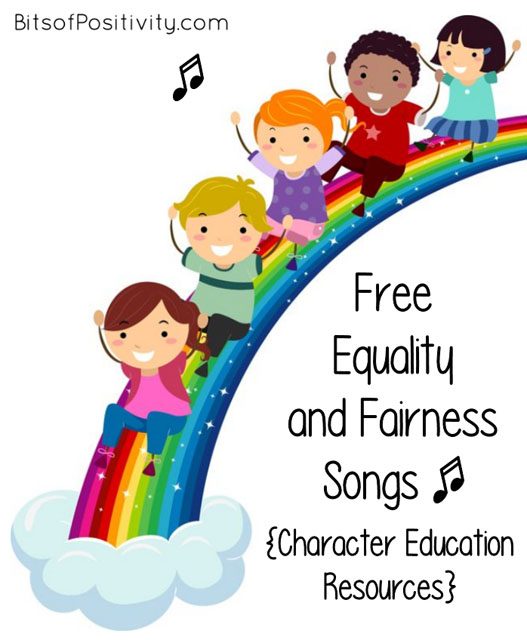 Free Equality and Fairness Songs – YouTube Videos
A few of these songs are religious songs. I tell which ones are before the video.
Sesame Street: "Color of Me Song"

Pre-Nursery & Nursery's Dance Number – "We all Laugh in the Same Language"

"We All Laugh in the Same Language" new version by Marla Lewis

"Just the Way I Am" Children's Song (religious song) | Patty Shukla

Lanny Sherwin's "Everyone Is Different"

Julie Garnett's "Different" Music Video

"We've All Got Rights"|UnicefUK

"You And I" for Children With Disabilities – Unicef

"Wonderful" – Celebrate Diversity! – Musicians for a Cause

"Fairness Song" – Have Fun Teaching

"We the People" (Constitution Song) Sandy Wilbur

Horrible Histories Rosa Parks Equality song + Lyrics HD

"The Gender Equality Song" by PEZICANO – ref. also to HEFORSHE

"Sing a Song for Women"

"Equality Is Coming Around" – Lyric Video

Bob Marley – "One Love" (religious song)

"Where is the love" – Black Eyed Peas + Lyrics (Mildly religious)

Cat Stevens – "Peace Train" lyrics

John Lennon – "Imagine" (official video)

Equality and Fairness Songs with Lyrics
"We All Laugh (In the Same Language)" by Marla Lewis – Songs for Teaching

"Fairness Song" – Have Fun Teaching
ALL THE POSTS IN THE FREE CHARACTER EDUCATION VIDEOS SERIES HERE AT MY BITS OF POSITIVITY BLOG
ALL THE POSTS IN THE FREE SONGS FOR CIRCLE TIME SERIES AT MY LIVING MONTESSORI NOW BLOG
Free Songs about Skills and Concepts
Free Unit Study Songs
Free Seasonal and Holiday Songs
Free Video Resources Posts
Does your child (or do you) have a favorite equality song?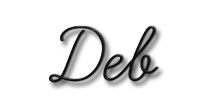 Amazon Affiliate:


Wondering where it's best to follow me?
If you're interested in kid-related content, sign up for the Living Montessori Now newsletter. I share my Bits of Positivity parenting and character-education posts in the weekly Living Montessori Now newsletter along with lots of great kids' activities and Montessori ideas from my Living Montessori Now blog. You'll get a monthly freebie (and previous monthly freebies) with link and password if you subscribe to the Living Montessori Now weekly newsletter!

If you're interested in inspiration and motivation, the best place for you will probably be the Bits of Positivity Facebook page. You'll find lots of inspiration there from the Bits of Positivity blog and from around the Internet. For word art inspiration, be sure to follow me at the Bits of Positivity Facebook page and on Pinterest! And for all my posts in a reader, check out Bloglovin'! Thanks so much!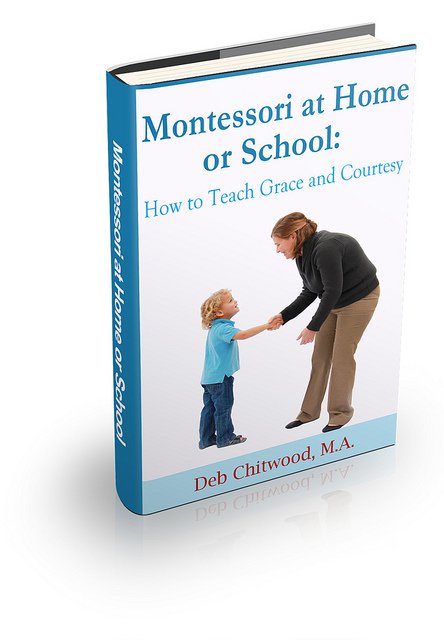 Learn more about my eBook Montessori at Home or School: How to. Teach Grace and Courtesy! I'm also one of the coauthors of the book Learn with Play – 150+ Activities for Year-round Fun & Learning!
May be linked to Practical Mondays Link Up, LouLou Girls, Tasty Tuesdays, A Little Bird Told Me Linky Party, Link-ups at Squishable Baby, Sharing Saturday
Image at Top of Post by Lorelyn Medina