Whether you're looking for grandparent quotes for Grandparents Day, Mothering Sunday, Mother's Day, or Father's Day, you'll find lots of lovely quotes here. Maybe you want a quote for a card or a scrapbook page. Or maybe you just want some comfort and inspiration.
I have quotes here about grandparents, grandmothers, and grandfathers. I'm not including quotes about being a grandparent. I'll save those for another post.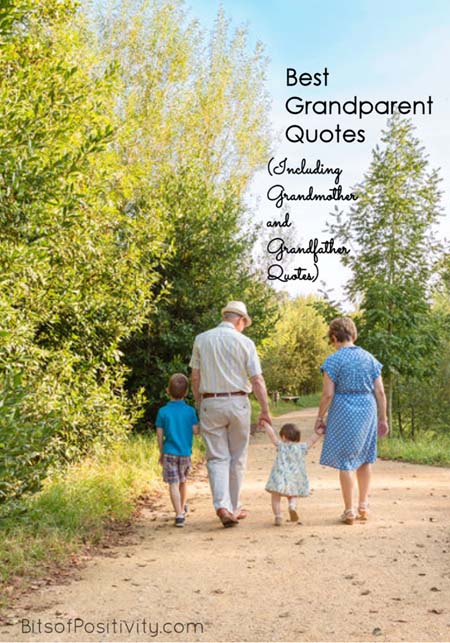 Grandparent Quotes
Disclosure: This post contains affiliate links (at no cost to you).
"A child needs a grandparent, anybody's grandparent, to grow a little more securely into an unfamiliar world." Charles and Ann Morse
"What children need most are the essentials that grandparents provide in abundance. They give unconditional love, kindness, patience, humor, comfort, lessons in life. And, most importantly, cookies." Rudy Giuliani
"Everyone needs to have access both to grandparents and grandchildren in order to be a full human being." Margaret Mead
"I did stand-up for my grandparents every day when I was, like, eight." Ariana Grande
"I loved their home. Everything smelled older, worn but safe; the food aroma had baked itself into the furniture." Susan Strasberg
"Grandparents are a delightful blend of laughter, caring deeds, wonderful stories, and love." Author Unknown
"A grandparent is old on the outside but young on the inside." Author Unknown
"If you're lucky enough to still have grandparents, visit them, cherish them and celebrate them while you can." Regina Brett
"I feel like my grandparents and parents gave me a tremendous amount. And if I can pass some of that on, then I'll be very happy." Caroline Kennedy
"Because (grandparents) are usually free to love and guide and befriend the young without having to take daily responsibility for them, they can often reach out past pride and fear of failure and close the space between generations." Jimmy Carter
"Grandparents should play the same role in the family as an elder statesman can in the government of a country. They have the experience and knowledge that comes from surviving a great many years of life's battles and the wisdom, hopefully, to recognise how their grandchildren can benefit from this." Geoff Dench
"Grandparents, like heroes, are as necessary to a child's growth as vitamins." Joyce Allston
"No spring, nor summer hath such grace. As I have seen in one autumnal face." John Donne
"Some of the world's best educators are grandparents." Charles W. Shedd
"The simplest toy, one which even the youngest child can operate, is called a grandparent." Sam Levenson
"Young people need something stable to hang on to — a culture connection, a sense of their own past, a hope for their own future. Most of all, they need what grandparents can give them…." Jay Kesler
"Grandparents are a family's greatest treasure, the founders of a loving legacy, The greatest storytellers, the keepers of traditions that linger on in cherished memory. Grandparents are the family's strong foundation. Their very special love sets them apart. Through happiness and sorrow, through their special love and caring, grandparents keep a family close at heart." Author Unknown
"No one … who has not known that inestimable privilege can possibly reaslise what good fortune it is to grow up in a home where there are grandparents." Suzanne La Follette
"Unconditional positive regard is rarely given by anyone except a grandparent." Author Unknown
"Nobody can do for little children what grandparents do. Grandparents sort of sprinkle stardust over the lives of little children." Alex Haley
"Grandparents make the world … a little softer, a little kinder, a little warmer." Author Unknown
"Grandma and Grandpa, tell me a story and snuggle me with your love. When I'm in your arms, the world seems small and we're blessed by the heavens above." Laura Spiess
"Grandparents make the world … a little softer, a little kinder, a little warmer. Author Unknown
"Grandmas and grandpas are grand-angels." Terri Guillemets