In some way, bullies are a problem for us all. October is National Bullying Prevention Month, and this week is Character Counts Week. While we need to focus on bullying prevention all year, this is an especially good time to add some anti-bullying resources. To help parents and teachers, I've put together free anti-bullying songs for a variety of ages.
My character education resource posts obviously aren't mutually exclusive. You'll also find some great related songs in my posts below about bucket filling, kindness, respect, and friendship.
Free Anti-Bullying Songs – Videos
"Bully-Free Zone" (Anti-bullying song for kids!) – Harry Kindergarten Music

Think Like a Puppy | The anti bullying song for kids | Respect, tolerance & acceptance | I HAVE A GO

"Hey Bully Song" – Have Fun Teaching

Kennedy James – "Mean Ol' Bully" (Official music video)

The Kids of Teasley – "Anti-Bullying Song"

"Love Yourself" by Khari Toure (Anti-Bullying Song)

MattyB vs JohnnyO: Best Anti-Bullying Video

Selena Gomez- "Kill Em With Kindness" (Johnny Orlando Cover Ft Hayden Summerall)

Justin Bieber – "Never Say Never" ft. Jaden Smith

JoJo Siwa – "BOOMERANG" (Official Video)

Kema Kay – "Leave Them Alone" (Anti Bullying song)

"Say My Name" Anti Bullying Song : The Glenn Marais Band

Bars & Melody – Simon Cowell's Golden Buzzer act | Britain's Got Talent 2014

Unkle Adams – "I Am Stronger" (Official Anti-Bullying Music Video)

"SOMEDAY"- Original Anti-Bullying song by Dalton & Dylan

2015 Anti-Bullying Video (an inspirational video for kids who've been bullied)

Grace Vanderwaal – Clay (Live from The Tonight Show)

Grace VanderWaal – Clay (Lyric)

"Who Do U Think U R?" Cypress Ranch High School Anti-Bully Lip Dub – Kaitlyn K

Rachel Crow – "Mean Girls"

Morgan Frazier – "Hey Bully" (Official Music Video)

Taylor Swift – "Mean"

Taylor Swift "Shake It Off" – Dance Workout with Christina Chitwood

"Dare to Be Different" – Rachael Lynn – (Official Anti Bullying Music Video)
Anti-Bullying Songs with Lyrics
Amazon Affiliate:


ALL THE POSTS IN THE FREE CHARACTER EDUCATION VIDEOS SERIES HERE AT MY BITS OF POSITIVITY BLOG
ALL THE POSTS IN THE FREE SONGS FOR CIRCLE TIME SERIES AT MY LIVING MONTESSORI NOW BLOG
Free Songs about Skills and Concepts
Free Unit Study Songs
Free Seasonal and Holiday Songs
Free Video Resources Posts

Wondering where it's best to follow me?
If you're interested in kid-related content, sign up for the Living Montessori Now newsletter. I share my Bits of Positivity parenting and character-education posts in the weekly Living Montessori Now newsletter along with lots of great kids' activities and Montessori ideas from my Living Montessori Now blog. You'll get a monthly freebie (and previous monthly freebies) with link and password if you subscribe to the Living Montessori Now weekly newsletter!

If you're interested in inspiration and motivation, the best place for you will probably be the Bits of Positivity Facebook page. You'll find lots of inspiration there from the Bits of Positivity blog and from around the Internet. For word art inspiration, be sure to follow me at the Bits of Positivity Facebook page and on Pinterest! And for all my posts in a reader, check out Bloglovin'! Thanks so much!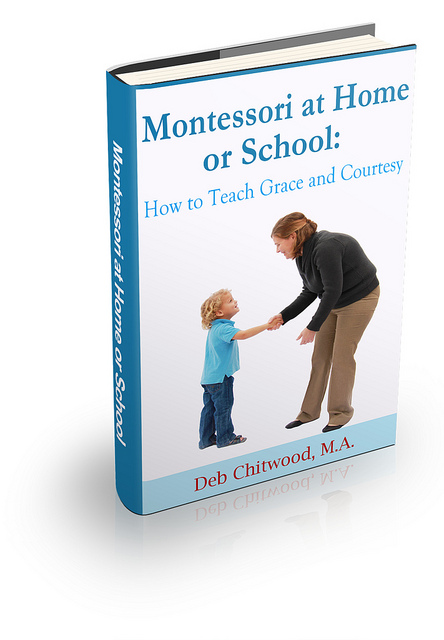 Learn more about my eBook Montessori at Home or School: How to. Teach Grace and Courtesy! I'm also one of the coauthors of the book Learn with Play – 150+ Activities for Year-round Fun & Learning!
May be linked to Practical Mondays Link Up, Hip Homeschool Hop, The Mommy Club Resources and Solutions, A Little Bird Told Me Linky Party, Link-ups at Squishable Baby,Preschool Corner, Sharing Saturday, Tot School Gathering Place.
Background image at top of post from lurin.