The Olympics and Paralympics are about much more than winning. Of course, I believe that all sports are about much more than winning. The Olympic and Paralympic values are great character education lessons for both children and adults. So, what are the Olympic and Paralympic values?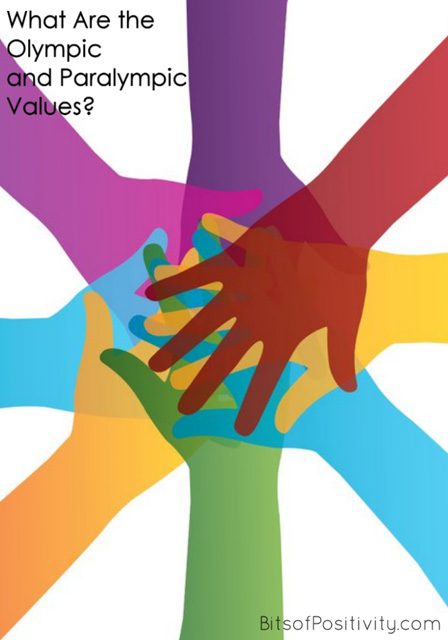 Core Olympic Values
There are basically seven Olympic and Paralympic values. Sometimes they're shown together, but I've most often seen them shown separately. I'd prefer them together. Where character education is concerned, they're all essential.
But, since they're typically shown separately, here are the three core Olympic values:
Excellence
Friendship
Respect
Here are some helpful videos about Olympic values:
How to … Embrace the Olympic Values
For lots of Olympics inspiration, check out the Olympics channel on YouTube!
Paralympic Values
These are some of my very favorite sports values:
Determination
Courage
Equality
Inspiration
And here's a video about the Olympic and Paralympic values:
Olympic Humor
I'm a Mr. Bean fan, so I have to share a bit of Olympic humor from the 2012 Olympics. This looks like the opposite of the Olympic and Paralympic values!
Mr. Bean / Rowan Atkinson London 2012 Performance
ALL THE POSTS IN THE FREE CHARACTER EDUCATION AND MINDFULNESS VIDEO SERIES HERE AT MY BITS OF POSITIVITY BLOG
You'll find more videos about Olympic and Paralympic values in the video posts listed below (I have the specific video post specified as including Olympic or Paralympic values.):
Note: These are in alphabetical order by words in bold.
I hope you and your children and/or students have fun with the Olympics and find inspiration in the Olympic and Paralympic values!
Wondering where it's best to follow me?
If you're interested in kid-related content, sign up for the Living Montessori Now newsletter. I share my Bits of Positivity parenting and character-education posts in the weekly Living Montessori Now newsletter along with lots of great kids' activities and Montessori ideas from my Living Montessori Now blog. You'll get a monthly freebie (and previous monthly freebies) with link and password if you subscribe to the Living Montessori Now weekly newsletter!

If you're interested in inspiration and motivation, the best place for you will probably be the Bits of Positivity Facebook page. You'll find lots of inspiration there from the Bits of Positivity blog and from around the Internet. For word art inspiration, be sure to follow me at the Bits of Positivity Facebook page and on Pinterest! And for all my posts in a reader, check out Bloglovin'! Thanks so much!
Learn more about my eBook Montessori at Home or School: How to. Teach Grace and Courtesy!