We honor the birth and legacy of Dr. Martin Luther King, Jr., on the third Monday in January each year. August 28 is Dream Day Quest and Jubilee in honor of his "I Have a Dream" Speech on August 28, 1963. Of course, his quotes are perfect any time of year.
I'm sharing two educational videos about Martin Luther King Jr. and my favorite Martin Luther King Jr. quotes. There's so much wisdom and inspiration in his words!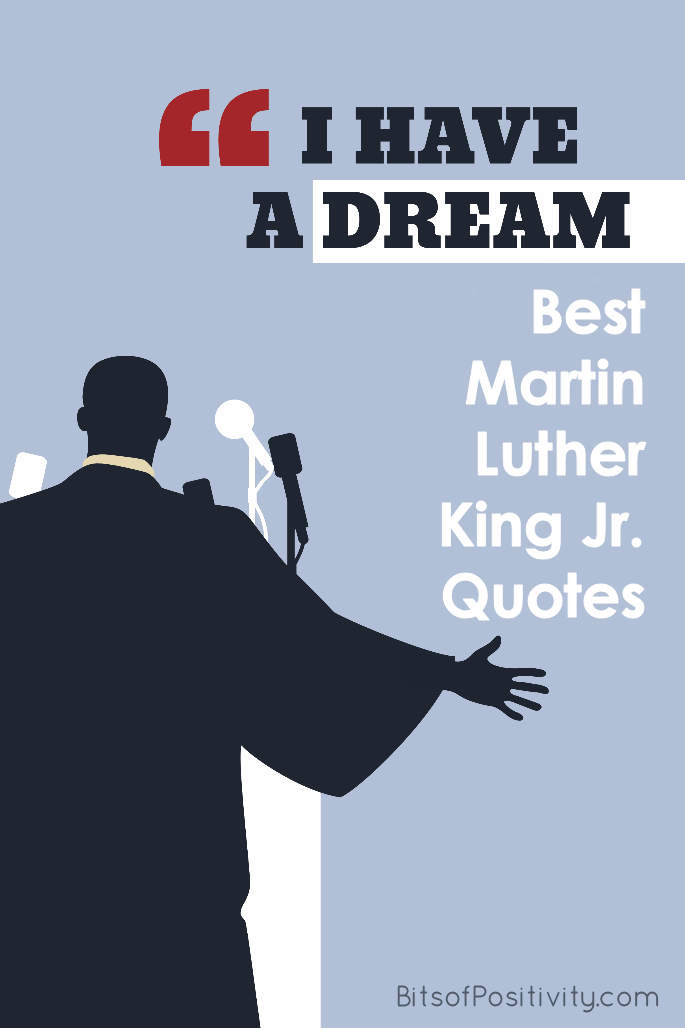 Here's a video about Martin Luther King Jr. that's easy for kids to understand.
Here's Martin Luther King's famous "I Have A Dream" Speech – August 28, 1963.
Here's the entire "I Have a Dream" speech trancript from History.com.
This is a shorter version of the "I Have a Dream" speech in HD and with subtitles.
Best Martin Luther King Jr. Quotes
Here are my favorite Martin Luther King Jr. quotes:
"I have a dream that my four little children will one day live in a nation where they will not be judged by the color of their skin but by the content of their character."
"I have a dream that one day … little black boys and black girls will be holding hands with little white boys and white girls as sisters and brothers."
"I have a dream that one day every valley shall be exalted, every hill and mountain shall be made low. The rough places will be made plain, and the crooked places will be made straight. And the glory of the Lord shall be revealed, and all flesh shall see it together."
"The function of education is to teach one to think intensively and to think critically. Intelligence plus character – that is the goal of true education."
"I have the audacity to believe that peoples everywhere can have three meals a day for their bodies, education and culture for their minds, and dignity, equality, and freedom for their spirits."
"If you can't fly then run, if you can't run then walk, if you can't walk then crawl, but whatever you do you have to keep moving forward."
"There comes a time when one must take a position that is neither safe nor politic nor popular, but he must take it because his conscience tells him it is right."
"The ultimate measure of a man is not where he stands in moments of comfort and convenience, but where he stands at times of challenge and controversy."
"Never, never be afraid to do what's right, especially if the well-being of a person or animal is at stake. Society's punishments are small compared to the wounds we inflict on our soul when we look the other way."
"History will have to record that the greatest tragedy of this period of social transition was not the strident clamor of the bad people, but the appalling silence of the good people."
"Our lives begin to end the day we become silent about things that matter."
"We must use time creatively, in the knowledge that the time is always ripe to do right."
"That old law about 'an eye for an eye' leaves everybody blind. The time is always right to do the right thing."
"The first question which the priest and the Levite asked was: 'If I stop to help this man, what will happen to me?' But… the good Samaritan reversed the question: 'If I do not stop to help this man, what will happen to him?'
"He who passively accepts evil is as much involved in it as he who helps to perpetrate it. He who accepts evil without protesting against it is really cooperating with it."
"Every man must decide whether he will walk in the light of creative altruism or in the darkness of destructive selfishness."
"An individual has not started living until he can rise above the narrow confines of his individualistic concerns to the broader concerns of all humanity."
"Ten thousand fools proclaim themselves into obscurity, while one wise man forgets himself into immortality."
"All labor that uplifts humanity has dignity and importance and should be undertaken with painstaking excellence."
"I am not interested in power for power's sake, but I'm interested in power that is moral, that is right and that is good."
"Injustice anywhere is a threat to justice everywhere."
"Whatever your life's work is, do it well. A man should do his job so well that the living, the dead, and the unborn could do it no better. "
"Everybody can be great … because anybody can serve. You don't have to have a college degree to serve. You don't have to make your subject and verb agree to serve. You only need a heart full of grace. A soul generated by love."
"Not everybody can be famous but everybody can be great because greatness is determined by service… You only need a heart full of grace and a soul generated by love."
"Life's most persistent and urgent question is, 'What are you doing for others?'"
"Those who are not looking for happiness are the most likely to find it, because those who are searching forget that the surest way to be happy is to seek happiness for others."
"Love is the only force capable of transforming an enemy into friend."
"We must develop and maintain the capacity to forgive. He who is devoid of the power to forgive is devoid of the power to love. There is some good in the worst of us and some evil in the best of us. When we discover this, we are less prone to hate our enemies."
"Science investigates; religion interprets. Science gives man knowledge, which is power; religion gives man wisdom, which is control. Science deals mainly with facts; religion deals mainly with values. The two are not rivals."
"The past is prophetic in that it asserts loudly that wars are poor chisels for carving out peaceful tomorrows"
"It is not enough to say we must not wage war. It is necessary to love peace and sacrifice for it."
"We must concentrate not merely on the negative expulsion of war but the positive affirmation of peace."
"People fail to get along because they fear each other; they fear each other because they don't know each other; they don't know each other because they have not communicated with each other."
"We must learn to live together as brothers or perish together as fools."
"Never forget that everything Hitler did in Germany was legal."
"We must build dikes of courage to hold back the flood of fear."
"Nonviolence is a powerful and just weapon. which cuts without wounding and ennobles the man who wields it. It is a sword that heals."
"Only in the darkness can you see the stars."
"We must accept finite disappointment, but never lose infinite hope."
"Returning hate for hate multiplies hate, adding deeper darkness to a night already devoid of stars. Darkness cannot drive out darkness; only light can do that. Hate cannot drive out hate; only love can do that. Hate multiplies hate, violence multiplies violence, and toughness multiplies toughness in a descending spiral of destruction."
"I have decided to stick with love. Hate is too great a burden to bear."
"Change does not roll in on the wheels of inevitability, but comes through continuous struggle."
"I believe that unarmed truth and unconditional love will have the final word in reality. This is why right, temporarily defeated, is stronger than evil triumphant."
"I refuse to accept the view that mankind is so tragically bound to the starless midnight of racism and war that the bright daybreak of peace and brotherhood can never become a reality… I believe that unarmed truth and unconditional love will have the final word."
"We cannot walk alone."
"If I cannot do great things, I can do small things in a great way."
"When we let freedom ring, when we let it ring from every village and every hamlet, from every state and every city, we will be able to speed up that day when all of God's children, black men and white men, Jews and Gentiles, Protestants and Catholics, will be able to join hands and sing in the words of the old Negro spiritual, 'Free at last! Free at last! Thank God Almighty, we are free at last!' "
"Take the first step in faith. You don't have to see the whole staircase, just take the first step."
"No one really knows why they are alive until they know what they'd die for."
"The quality, not the longevity, of one's life is what is important."
Martin Luther King Resources for Parents and Teachers
Amazon Affiliate:
Wondering where it's best to follow me?
If you're interested in kid-related content, sign up for the Living Montessori Now newsletter. I share my Bits of Positivity parenting and character-education posts in the weekly Living Montessori Now newsletter along with lots of great kids' activities and Montessori ideas from my Living Montessori Now blog. You'll get a monthly freebie (and previous monthly freebies) with link and password if you subscribe to the Living Montessori Now weekly newsletter!

If you're interested in inspiration and motivation, the best place for you will probably be the Bits of Positivity Facebook page. You'll find lots of inspiration there from the Bits of Positivity blog and from around the Internet. For word art inspiration, be sure to follow me at the Bits of Positivity Facebook page and on Pinterest! Thanks so much!
Learn more about my eBook Montessori at Home or School: How to. Teach Grace and Courtesy!