Today's part of Worldwide Character Counts! Week, which makes it a great day to focus on character. But, actually, every day is a great day to focus on character.
If you'd like to know what you can do right away in your family, here are some suggestions:
I love the Film Clips for Character Education. Update: They're no longer free. At any time, you can study film clips (maybe on YouTube) or watch a movie like Babe and ask the following questions on the theme of respect from Film Clips for Character Education: The Six Pillars of Character Part 1 Study Guide:
What kind of leadership did Babe show when he tried to be like a sheepdog?

Was it Babe's fault when he tried to be mean and aggressive like a sheepdog?

What attitude and behavior were successful in getting the sheep to do what Babe wanted?

Is it better to force someone to do something or to persuade them to do it? Why?
Or watch a movie like Cool Runnings and ask questions on the theme of trustworthiness:
Why did the coach think it was necessary to cheat?

Why did he decide to tell the truth about his past cheating?

Are successful people you know truthful people? Do they keep their promises?

Can you ever redeem trust? If so, how?
Start reading a book of your own or with your family that emphasizes positive values.
When my kids were growing up, we especially loved to read biographies and autobiographies of inspirational individuals, The Book of Virtues, and Laura Ingalls Wilder's Little House on the Prairie series.
Here's a video based on another book that's great for helping kids develop positive character traits:
Have You Filled a Bucket Today?
Use comic strips to discuss character.
Pick an age-appropriate comic that has a good example for a character discussion.
Plan to do something to make a difference. It can even be a family project.
Here's today's Character Counts! Week Daily Character Idea for Kids:
Find Out Friday

Is there a pressing issue in your community? Find out how you can get involved and help make things better for everyone. Research the issue and groups that are taking action on it to find out what you can do.
If you'd like more ideas, check out my post What about Your Kids' Character? with links to lots of character-education resources.
I'd love to hear if you're doing anything special this week or if you have a regular activity in your family that focuses on character.
Wondering where it's best to follow me?
If you're interested in kid-related content, sign up for the Living Montessori Now newsletter. I share my Bits of Positivity parenting and character-education posts in the weekly Living Montessori Now newsletter along with lots of great kids' activities and Montessori ideas from my Living Montessori Now blog. You'll get a monthly freebie (and previous monthly freebies) with link and password if you subscribe to the Living Montessori Now weekly newsletter!

If you're interested in inspiration and motivation, the best place for you will probably be the Bits of Positivity Facebook page. You'll find lots of inspiration there from the Bits of Positivity blog and from around the Internet. For word art inspiration, be sure to follow me at the Bits of Positivity Facebook page and on Pinterest! And for all my posts in a reader, check out Bloglovin'! Thanks so much!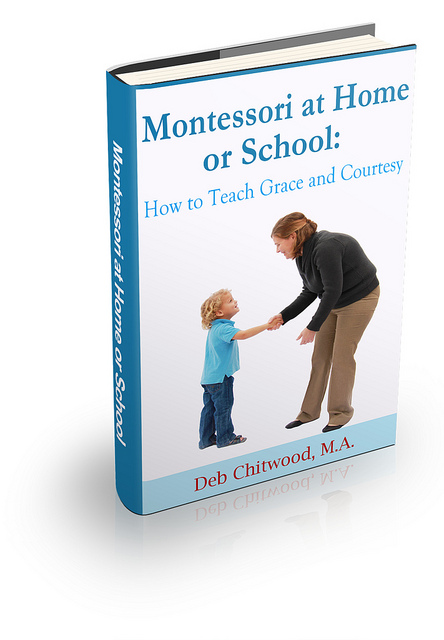 Learn more about my eBook Montessori at Home or School: How to. Teach Grace and Courtesy!
Photo Credit: Photo by Ricardo Eliezer de Souza e Silva Maas at Flickr Creative Commons (License).