Worldwide Character Counts! Week is always the third week in October, and there are some free character-education resources you won't want to miss!
Character Counts Week inspires and celebrates character. It focuses on the six pillars of character – trustworthiness, respect, responsibility, fairness, caring, and citizenship.
According to the Character Counts website:
Every year, the U.S. President, U.S. Senate, and officials around the world proclaim the third week in October CHARACTER COUNTS! Week. Last year 8 million kids in 54 countries participated. No matter what your political or religious affiliation, this event is about the universal values we share.
Free Character Education Resources:
There are some free resources for Character Counts! Week that you won't want to miss out on. They're wonderful for schools and homeschools as well as families in general. Check out the free Character Counts! Week resources here.
Available year round is the Lesson Plan Bank with lesson plans for students in all levels K-12. Last year, I told about a lesson plan called Sharing Our Surplus Stash: A Trick-Or-Treat Twist, which is designed to help 4-6 year olds learn about citizenship and develop an attitude of sharing/donating (and help you get rid of that excess Halloween candy at the same time!). A few new seasonal lessons focusing on fairness are There Is No Such Thing as a Perfect Pumpkin, Pumpkin Fallacies, and Putting the 'pi' In Pumpkin Pie.
"Do Right. Do Your Best." Word-Art Freebie
Whether you're part of a larger celebration or one within your own family, please join me in celebrating Character Counts! Week the third week in October!
Wondering where it's best to follow me?
If you're interested in kid-related content, sign up for the Living Montessori Now newsletter. I share my Bits of Positivity parenting and character-education posts in the weekly Living Montessori Now newsletter along with lots of great kids' activities and Montessori ideas from my Living Montessori Now blog. You'll get a monthly freebie (and previous monthly freebies) with link and password if you subscribe to the Living Montessori Now weekly newsletter!

If you're interested in inspiration and motivation, the best place for you will probably be the Bits of Positivity Facebook page. You'll find lots of inspiration there from the Bits of Positivity blog and from around the Internet. For word art inspiration, be sure to follow me at the Bits of Positivity Facebook page and on Pinterest! And for all my posts in a reader, check out Bloglovin'! Thanks so much!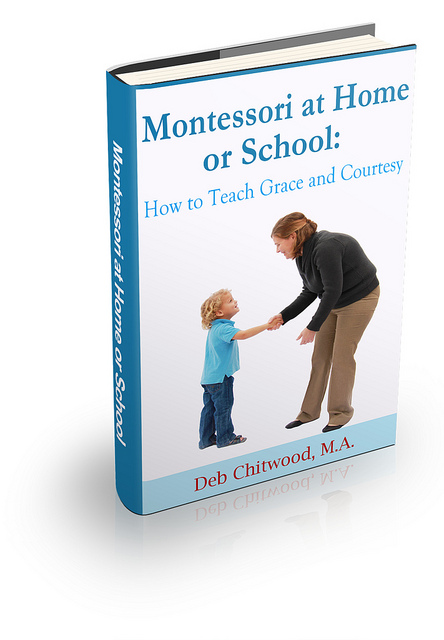 Learn more about my eBook Montessori at Home or School: How to. Teach Grace and Courtesy!