Deciding on family technology rules is difficult for many families. Should you have strict rules, no rules, or something in between? You might find it helpful to know what Steve Jobs and other top tech people chose as technology rules for their families … and you might be very surprised!
Family Technology Rules of Steve Jobs and Other Top Tech People
Although Steve Jobs is no longer alive, I imagine his family technology rules would be similar if he were alive. According to an article at Bright Side, he limited the amount of time his children could use technology like iPads, and he banned devices at night and on weekends. Instead, they spent time communicating with each other about books and other topics.
Chris Anderson, CEO of 3D Robotics, places a number of restrictions on technology in his home, saying, "It's because I see danger in obsessive uses of the internet. I remember the problems I encountered with this myself, and I don't want the same thing to happen to my kids." Be sure to read the article to see what rules a lot of the top tech people have for their families.
An article at The Unbounded Spirit talks about the trend of tech executives and engineers to not only limit technology at home, but also to send their kids to Waldorf Schools that avoid computers and focus on hands-on learning. That sounds similar to the focus of many in Montessori education who choose to limit technology and focus on hands-on learning instead.
I grew up (and raised my kids) without worries about technology. I'd hate to see kids today miss out on all the great ideas and hands-on learning that are available outside the world of technology.
My Other Posts About Parenting and Technology
Are your family technology rules similar to those of the top tech people?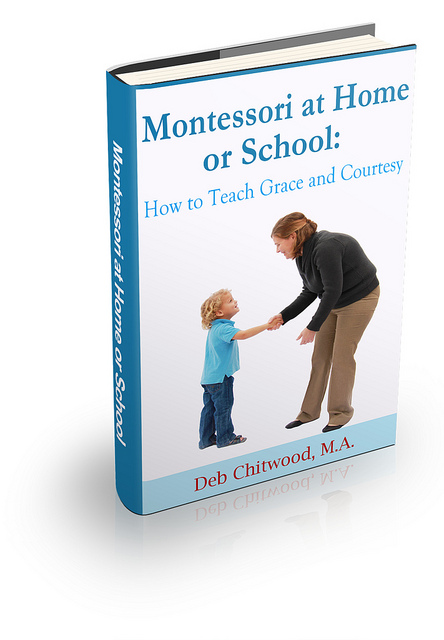 Image at Top of Post by dmbaker
Learn more about Montessori at Home or School: How to Teach Grace and Courtesy!
Note: I have lots of word-art inspiration at the Bits of Positivity Facebook page and on Pinterest!
May be linked to Practical Mondays Link Up, Afterschool Express,Thoughtful Spot, Hip Homeschool Hop, The Mommy Club Resources and Solutions, A Little Bird Told Me Linky Party, Everything Early Childhood, Learn and Play, Link-ups at Squishable Baby, Preschool Corner, Sharing Saturday, Tot School Gathering Place.