In case you haven't heard, there is such as a thing as nature-deficit disorder. It's not good.
What is Nature-Deficit Disorder?
Disclosure: This post contains affiliate links (at no cost to you).
Nature-deficit disorder can affect both children and adults. The symptoms include:
attention problems
obesity
anxiety
depression
Richard Louv on Nature Deficit Disorder from Camilla Rockwell on Vimeo.
If you'd like to learn all about nature-deficit disorder, check out Richard Louv's original book: Last Child in the Woods: Saving Our Children from Nature-Deficit Disorder. Along with telling about nature-deficit disorder, Richard Louv tells about the benefits of a strong connection with nature.
Ways to Help You and Your Family Avoid Nature-Deficit Disorder
I really like Richard Louv's latest book, Vitamin N: The Essential Guide to a Nature-Rich Life. It has 500 ideas for getting out into nature, starting at birth. These activities are very readable and doable. And many of the activities have research studies (told in layperson's terms) to back them up. It also contains inspiring essays and lots of resources for families.
Another simple idea to help almost anyone to avoid nature-deficit disorder (and get many additional benefits) is to go hiking. "What Hiking Does To The Brain Is Pretty Amazing" by Michael W. Pirrone makes me feel like getting outdoors and on the hiking trails as soon as possible.
It's spring … a perfect time to fight against nature-deficit disorder. If you just follow your kids' natural urges from the time they're very young, you'll have a good chance of avoiding (or curing) nature-deficit disorder. I know my 2-year-old granddaughter, Zoey, wants to go to the park every day. So I get to the park at least 4 days a week (whenever she visits my house). And my husband and I love walks on the beach. We're lucky to live in San Diego where we can walk on the beach.
But wherever you live, please go search out some nature this weekend. The good news is that nature-deficit disorder is both preventable and curable.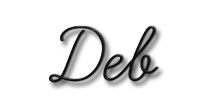 Wondering where it's best to follow me?
If you're interested in kid-related content, sign up for the Living Montessori Now newsletter. I share my Bits of Positivity parenting and character-education posts in the weekly Living Montessori Now newsletter along with lots of great kids' activities and Montessori ideas from my Living Montessori Now blog. You'll get a monthly freebie (and previous monthly freebies) with link and password if you subscribe to the Living Montessori Now weekly newsletter!

If you're interested in inspiration and motivation, the best place for you will probably be the Bits of Positivity Facebook page. You'll find lots of inspiration there from the Bits of Positivity blog and from around the Internet. For word art inspiration, be sure to follow me at the Bits of Positivity Facebook page and on Pinterest! And for all my posts in a reader, check out Bloglovin'! Thanks so much!
Learn more about my eBook Montessori at Home or School: How to. Teach Grace and Courtesy!