It's back-to-school time. Sadly, that's a time when lots of kids have to worry about bullying. While bullying has been around for a long time, it's probably more dangerous now than ever with cyberbullying along with the traditional forms of bullying.
Even adults have to deal with lack of online civility. It's time we all work to change things for the better.
Sites That Can Help
I have some helpful links about bullying and cyberbullying in a previous post: Do You Follow the Thumper Theory?
I also have a post with free anti-bullying songs and a post about taking a stand against body shaming and cyberbullying.
Here's a website and blog with lots of helpful information for both adults and kids: StopBullying.gov. The kids' section has facts, videos, and games to teach kids about bullying. The main page has tabs with lots of information on bullying and cyberbullying as well as risk factors to watch for, ways to prevent bullying, ways to respond to bullying, and ways to get help.
Follow the Golden Rule
My first-grade teacher, along with all the world's major religions, promote some form of the Golden Rule: "Do to others as you would have them do to you." Wouldn't the world be a better place if we all followed those words?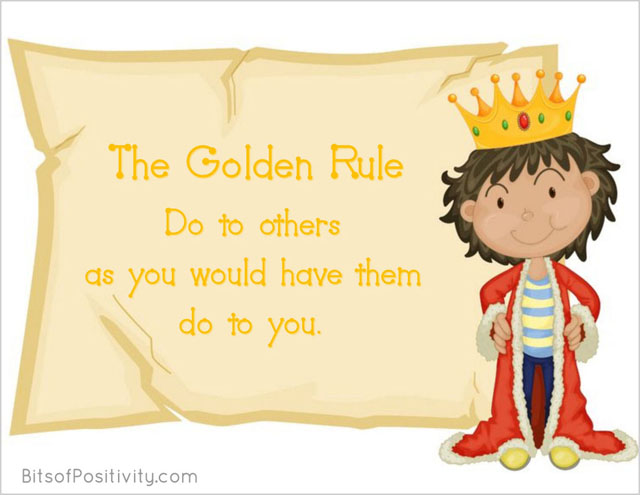 "Golden Rule" Word Art Freebie (without watermark and with or without background graphic)
You'll find a list of kindness posts and activities in my teaching kids to be kind post.
You'll find all my kindness posts here.
Amazon Affiliate:
Wondering where it's best to follow me?
If you're interested in kid-related content, sign up for the Living Montessori Now newsletter. I share my Bits of Positivity parenting and character-education posts in the weekly Living Montessori Now newsletter along with lots of great kids' activities and Montessori ideas from my Living Montessori Now blog. You'll get a monthly freebie (and previous monthly freebies) with link and password if you subscribe to the Living Montessori Now weekly newsletter!

If you're interested in inspiration and motivation, the best place for you will probably be the Bits of Positivity Facebook page. You'll find lots of inspiration there from the Bits of Positivity blog and from around the Internet. For word art inspiration, be sure to follow me at the Bits of Positivity Facebook page and on Pinterest! Thanks so much!
Learn more about my eBook Montessori at Home or School: How to. Teach Grace and Courtesy!