Like so many things, our family 100 Acts of Kindness Project was unusual this year. One of my main contributions to the project was preparing a book basket that encourages kindness.
Because of the pandemic, we found it easiest and most natural to emphasize kindness within the family and our little social bubble. With my 3 grandchildren, Zoey (7 years old), her sister Sophia (3 years old), and their cousin Caleb (almost 3 years old), a book basket was an easy way to meet their interests and give them social-emotional messages that help them grow in kindness.

I love that my family has been participating in the 100 Acts of Kindness Challenge since it began in 2011. The January/February 100 Acts of Kindness Challenge (hosted by Toddler Approved and Coffee Cups and Crayons) is a great time for an extra focus on kindness. Every year 's project has been different with our growing and changing family. Books have always been an important part of our 100 Acts of Kindness Challenge and other kindness projects, but this was the perfect year to make books a bigger part than normal.
Disclosure: This post contains affiliate links (at no cost to you).
How I Prepared a Book Basket That Encourages Kindness
Including Books for the Ages, Interests, and Social Emotional Needs of the Children
My two youngest grandkids love Baby Be Kind. It's a book about two toddlers showing kindness in a variety of ways. It does encourage sharing. Even though we don't require young children to share (encouraging them to take turns instead), I don't mind them being introduced to the concept of sharing in a book. And it talks about taking turns as well.⁠⠀
Sophia and Caleb also love Daniel Tiger. While Daniel Tiger isn't a Montessori-style, realistic figure, the series has some of the best social emotional learning messages available for preschoolers. Using concepts Fred Rogers taught, you'll find helpful messages for both children and their parents and caregivers in the Daniel Tiger books and videos. We emphasize that it's make believe, and both Caleb and Sophia are comfortable with that. We have great discussions as they identify with the struggles of the characters and learn from the messages and solutions.
A helpful board book for young children just learning how to interact with other children is Friends Ask First.

Friends Help Each Other and Daniel Learns to Share are two simple books related to kindness that my grandchildren especially love and often request.
Daniel Plays in a Gentle Way and Daniel Chooses to Be Kind are two other books that encourage kindness and are favorites of my youngest grandchildren.

Even though the photos are dated, I still love the Montessori-friendly book Making Friends by Fred Rogers. Sophia and Caleb love the book, too, and don't notice that it doesn't have current images.
Another Montessori-friendly book that's helpful for children learning to be a kind friend is The Little Book of Friendship.
I like to emphasize Spanish whenever I can. Cheri J. Meiners M.Ed., has a helpful, Montessori-friendly series of books about learning to get along. Many of them are available in English and Spanish as well as in English. For our kindness basket, we have Be Polite and Kind: Ser respetuoso y amable. If you prefer, the book is available in English alone.
Zoey is interested in ninjas, so I have many of the Ninja Life Hacks books by Mary Nhin. Kind Ninja was perfect for our kindness book basket.
All of these books are of high interest to my grandkids and have important kindness messages.
Including Books That Stretch Children's Ways of Thinking About Kindness
I have a number of the peek-through picture books by Britta Teckentrup. They each have a unique beauty. Kindness Grows is a lovely, thought-provoking book that uses die-cut pages to show a sapling growing into a flowering tree in the pages as kindness is spread.
The Power of One: Every Act of Kindness Counts uses the concept of one child's kindness creating a chain reaction of kindness throughout her school and community.
Each Kindness is a thought-provoking story about missed chances to show kindness.
Books about bucket filling or Kindness Elves give unique ways to think about kindness.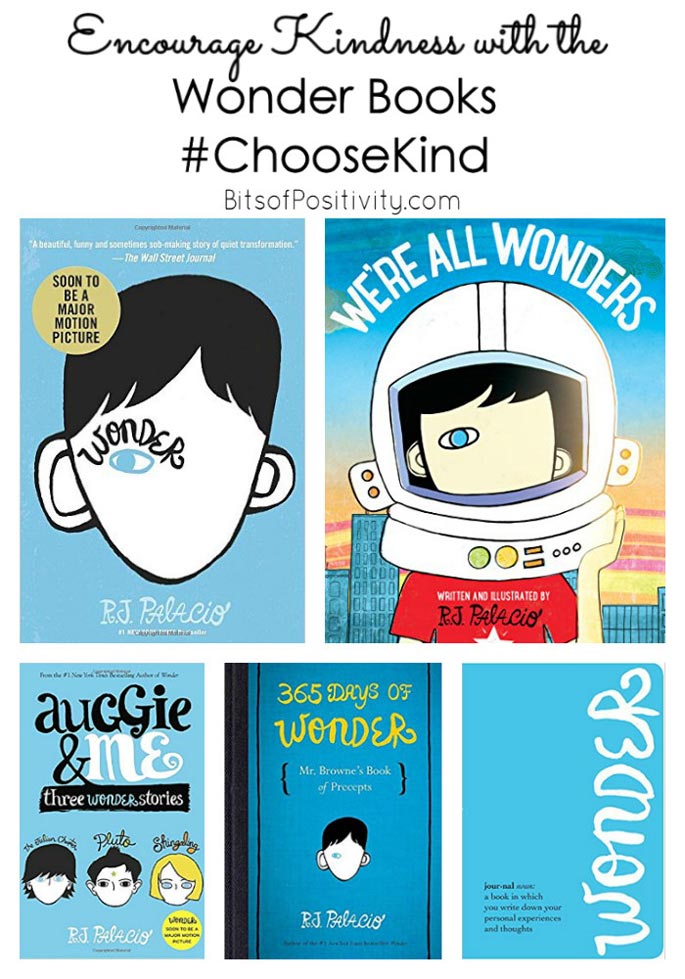 And don't miss the Wonder books for thought-provoking ideas of kindness. They're available for a variety of ages. You can read about the Wonder books here.
Including Books with Ideas for Acts of Kindness
Be Kind is a lovely book that gives young children a variety of simple ways to show kindness.
Do Nice Be Kind Spread Happy is a book filled with ideas of ways kids can show kindness (best for elementary-age kids on up).
Other Parts of Our 100 Acts of Kindness: 100 Acts of Kindness Charts
We don't use the 100 Acts of Kindness charts as reward charts. They're simply ways to count and celebrate acts of kindness.

You can get a free 100 Acts of Kindness Chart (with or without numbers) from Toddler Approved. We've used this printable before and decided to use it again this year. This was the chart Caleb placed his heart stickers on. It's especially perfect with ½" heart stickers or hearts you glue onto the chart.
You can get free 100 Acts of Kindness recording sheets from Coffee Cups and Crayons, too. My 7-year-old granddaughter loves scavenger hunts, so I downloaded this sheet for my son's family.
Having a Party to Celebrate 100+ Acts of Kindness!
Having a party at the end of our 100 Acts of Kindness Challenge is always fun. Many families have a party on Valentine's Day. We have our party on a day we can get together soon after Valentine's Day.
This year, the kids helped make healthy vegan ice cream for their party snack. At the end of the party, I have a Valentine's Day gift for each of my grandkids. Zoey loves scavenger hunts, so I prepare scavenger hunts for many occasions. For our Valentine's Day/100 Acts of Kindness party, I used the free Valentine's Day treasure hunt clues from The Housewife Modern to prepare a scavenger hunt. Zoey read the clues and was the leader in a fun activity that ended at gifts for each of my grandkids.
Having a Book Basket to Encourage Kindness at Any Time
After the party and the technical end of 100 Acts of Kindness Project for 2021, I've kept our kindness book basket available. It's a great way to focus on kindness throughout the year and an easy way to have books readily available if anyone needs extra kindness inspiration.
My Hundred Acts of Kindness Posts


Wishing you lots of love and kindness,
Wondering where it's best to follow me?
If you're interested in kid-related content, sign up for the Living Montessori Now newsletter. I share my Bits of Positivity parenting and character-education posts in the weekly Living Montessori Now newsletter along with lots of great kids' activities and Montessori ideas from my Living Montessori Now blog. You'll get a monthly freebie (and previous monthly freebies) with link and password if you subscribe to the Living Montessori Now weekly newsletter!

If you're interested in inspiration and motivation, the best place for you will probably be the Bits of Positivity Facebook page. You'll find lots of inspiration there from the Bits of Positivity blog and from around the Internet. For word art inspiration, be sure to follow me at the Bits of Positivity Facebook page and on Pinterest! Thanks so much!
Learn more about my eBook Montessori at Home or School: How to. Teach Grace and Courtesy!