My family has embraced the concept of growth mindset. Not only has my 4½-year-old granddaughter, Zoey, loved learning about growth mindset, but the adults in our family have enjoyed learning about growth mindset, too. And children's growth mindset books are often as much fun for adults as they are for children.
Today, I'm going to share some of our favorite growth mindset books for kids.
Disclosure: This post contains affiliate links (at no cost to you).
Just choose books based on your child's age and what you think will engage your child's interest. I recommend checking out the "Look Inside the Book" feature on Amazon and reading reviews there. Another place to learn about a book is on YouTube. You can typically see the entire book there. If you live outside the U.S., be sure to check out Book Depository for great prices and free worldwide delivery.
Montessori-friendly books use photos or realistic illustrations. They don't have talking animals or a lot of fantasy. But many books that have fantasy and talking animals are wonderful books, and I love sharing them with children who understand the difference between fantasy and reality. I typically have a majority of Montessori-friendly books for a theme, but I include a variety of books that might not be Montessori-style books but that are simply lots of fun or are classic books that I consider an important part of cultural literacy. With growth mindset, if your child can understand the concepts in the book, it typically won't matter at all if it isn't a Montessori style book.
Favorite Human Brain Books for Kids
We studied both the human brain and growth mindset together in a brain and growth mindset unit. I think that works very well because studying the brain helps children understand growth mindset better and vise versa. You can see my post at LivingMontessoriNow.com with lots of free brain and growth mindset printables and Montessori-inspired brain activities.
This shelf shows our main area with brain books and activities. We did some review of the whole body along with learning about the brain. Here are some of the favorite brain books we used and kept on the top shelf or in the Montessori book basket next to it:
Favorite Growth Mindset Books for Kids
If you're doing a unit study, you don't need to include babies and toddlers. They really won't care if their books fit with your current theme. But an older sibling will love to share the themed books with a baby or toddler. So having baby or toddler books for a brain/growth mindset theme will encourage your older sibling to read to your baby or toddler.
I have an overview of the human body in the back of the book basket that Zoey has always loved with its transparency overlays. It isn't actually designed for babies and toddlers, but its images and transparency overlays are very appealing to babies and toddlers if you just read a few of the words. I still have the version from when my now-adult kids were little. There's a new version of The Body (My First Discoveries). It's great for preschoolers, and Zoey still loves it. For babies, we just show them where the brain is in the head.
Beautiful Oops! is actually recommended for ages 3-8, but my 6-month-old and 9-month-old grandbabies love it because of the various flaps and textures. For Zoey, it has a wonderful growth mindset message and is a fun book for her to share with the babies.
Note: Just click on the book images below to find the book on Amazon.
Zoey absolutely loves Bubble Gum Brain! She asks me to read it every day she visits. It's recommended for ages 4-8. It's obviously not a Montessori-style book, but it's wonderful for kids who can understand the concept.
Your Fantastic Elastic Brain has lots of helpful information about parts of the brain as well as a growth mindset message. This would be a Montessori-style book except that it has cute little talking animals on many of the pages. I don't mind them at all, but you have to decide if you want it to be completely Montessori style. It's recommended for ages 4-8.
This is another of Zoey's favorite books. She loves the idea of talking to her brain! Obviously, the brain doesn't have a face and arms and legs. So, again, this book is for a child who can understand the concept.
The basket at the right end of the shelf holds this magnetic mini bulletin board set. We use it as a growth mindset puzzle, which can work on a rug or on a magnetic surface, such as the refrigerator.
Nest to our shelf that has growth mindset books, I have a Montessori book basket with a variety of books, including a number of growth mindset books. Here are some of our favorites:
The Dot is a Montessori-friendly story about not giving up.
The Little Engine That Could isn't a Montessori-style book, but it's a truly wonderful classic book about the power of positive thinking. It's recommended for ages 3-7.
Not Yet is a Montessori-friendly story about the power of yet. It's recommended for ages 4-8.
I Can't Do That YET is written in the context of a dream. It's a helpful story for children who are insecure about their reading skills or worry they won't learn to read.
I love Pete the Cat: I Love My White Shoes! It's recommended for ages 4-8, but my whole family adores this book (maybe the adults the most)! Of course, it isn't a Montessori-style book, but Pete the Cat is perfect just as he is! And you have to listen to this while turning the pages to the book … such a perfect story and song telling you to just keep movin' and groovin' and singing your song no matter what messes you get into … because "it's all good."
Ada Twist, Scientist is a fun story about the value of curiosity, passion, and perseverance. It's recommended for ages 5-7.
Andrea Beaty has authored lots of books that are great for growth mindset, encouraging creativity, problem solving, and perseverance.
The Most Magnificent Thing is recommended for ages 3-7. It's a cute, Montessori-friendly story about the importance of perseverance and learning from mistakes.
Recommended for ages 4-8, this Montessori-friendly book is a fun story about not worrying about making mistakes. A helpful book for perfectionists!
Mistakes That Worked is recommended for ages 8-12. Generally, those are ideal ages for this book about the interesting origins of 40 familiar inventions.
It's exciting that there are new growth mindset books for kids being published regularly. Just find the ones that appeal to you and your children (or that have the specific message needed at any particular time).
View this post on Instagram
Here are a number of growth mindset books we're focusing on during our summer sports unit during the Olympics in Tokyo. Many of them are listed here, although I've added a number of ninja books for kids because Zoey has been fascinated by ninjas since she was 6 or so. She loves the ninja books by Mary Nihn and other positive ninja books.
Free Human Brain Printables
If you'd like to include a study of the brain along with your growth mindset activities, I have a post at Living Montessori Now with free human brain printables and Montessori-inspired brain activities.
More Growth Mindset Resources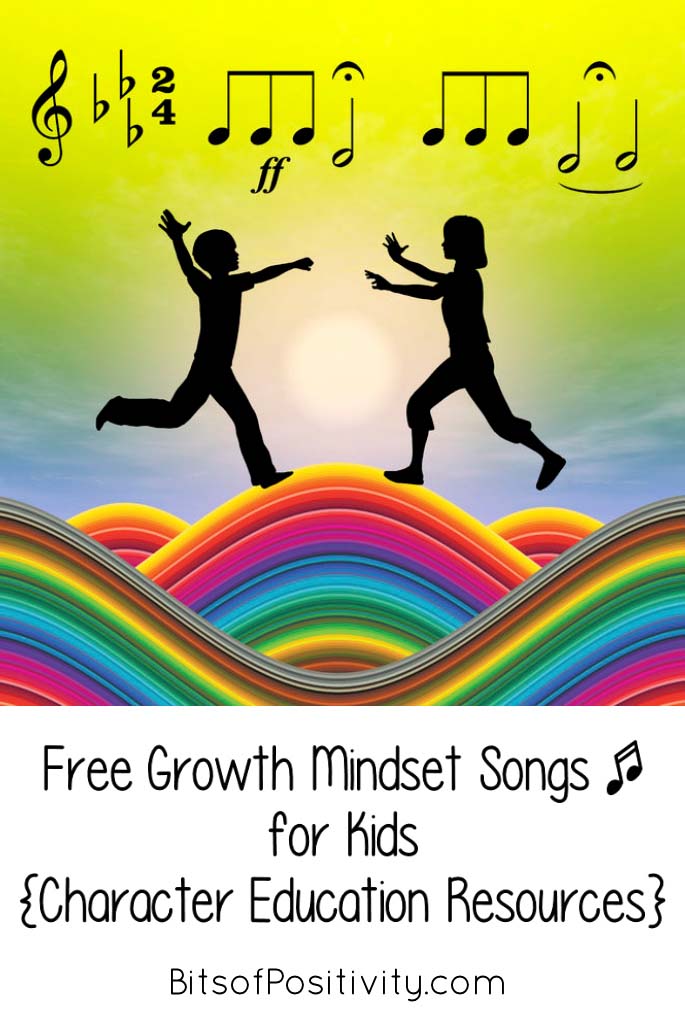 You'll find lots of inspiring- and character-building songs in my free growth mindset songs for kids post.
In addition to a long list of inspiring growth mindset quotes, you'll find a number of word-art freebies (which I add to whenever I publish another one) in my best growth mindset quotes for kids and adults.
Both kids and adults can gain a lot of growth mindset inspiration from famous failures.
Big Life Journal site has lots and lots of amazing growth mindset resources for a variety of ages.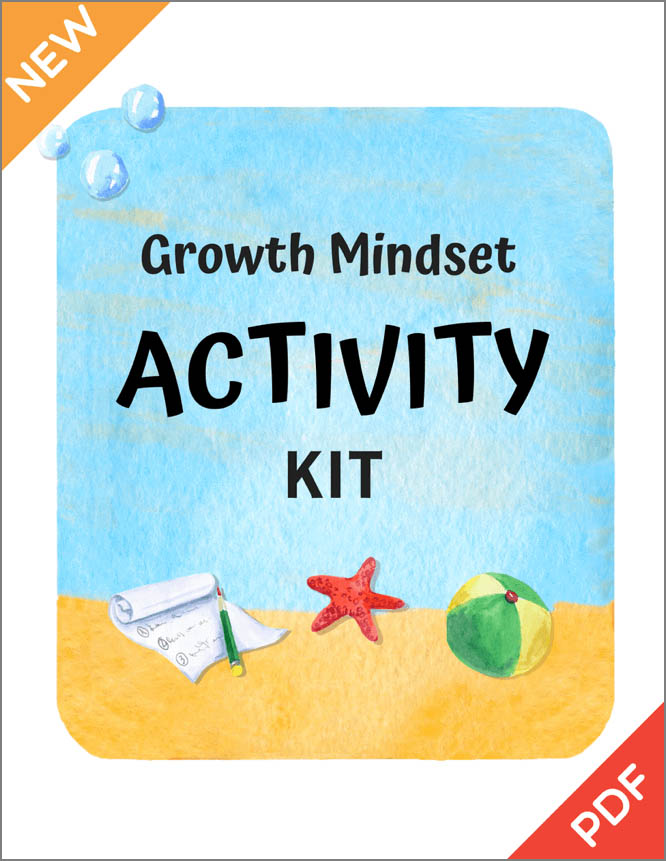 Big Life Journal Activity Kit is a PDF with 25 growth mindset activities for ages 4 and above. You'll find many more great growth mindset products at Big Life Journal!
Do you or your kids have a favorite growth mindset book?
Wondering where it's best to follow me?
If you're interested in kid-related content, sign up for the Living Montessori Now newsletter. I share my Bits of Positivity parenting and character-education posts in the weekly Living Montessori Now newsletter along with lots of great kids' activities and Montessori ideas from my Living Montessori Now blog. You'll get a monthly freebie (and previous monthly freebies) with link and password if you subscribe to the Living Montessori Now weekly newsletter!

If you're interested in inspiration and motivation, the best place for you will probably be the Bits of Positivity Facebook page. You'll find lots of inspiration there from the Bits of Positivity blog and from around the Internet. For word art inspiration, be sure to follow me at the Bits of Positivity Facebook page! Thanks so much!
Learn more about my eBook Montessori at Home or School: How to. Teach Grace and Courtesy!