We sometimes need to be reminded that we don't need to do an activity for everything. It can be enough to cuddle up on the sofa with your child, grandchild, or child in your care and share the wisdom of a special book. My 3½-year-old granddaughter, Zoey, and I have had lots of fun doing kindness activities using the Kindness Elves. But we also like to just share a special book that I've featured with the Kindness Elves. Today, I'm sharing some special new Kindness Elves and simple literature-based ways to encourage kindness.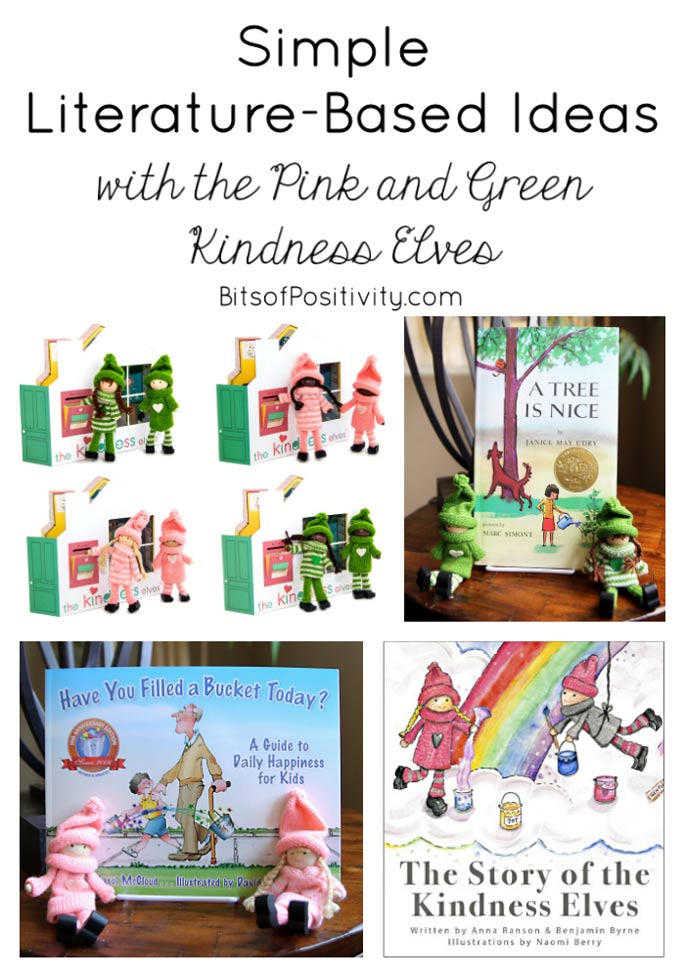 Disclosure: I was given pink and green Kindness Elves for this post. My opinions are honest and my own. This post contains some affiliate links (at no cost to you).
Materials for Simple Literature-Based Activities with the Pink and Green Kindness Elves

We love the Kindness Elves! (They come in a number of different options for skin, hair, and clothing color, including the new Kindness Elves with pink or green clothing!)
The Story of the Kindness Elves is great to bring out every time you introduce new Kindness Elves or a new kindness project.
Simple Literature-Based Ideas with the Pink Kindness Elves

Anna, the founder of the Kindness Elves, tells the traits of Rose and Wish and Floss and Finn, the pink "Wish Maker" elves:
"The Wish Makers are fabulously inventive and love nothing more than to create wonderful surprises for others to enjoy! They decorate places beautifully, wrap gifts and set up amazing treasure hunts for little ones to enjoy. If there's a celebration happening the Wish Makers will be in the middle of it, probably covered in glitter and confetti! They love to make wishes come true in whatever way they can and celebrate the everyday moments too."
Of course, I think it's fine to personalize your elves. Zoey changed Rose's name to Anna because she has two braids.  Naturally, one braid would have meant she was Elsa! Zoey changed Wish's name to a friend of hers who's a boy.
Bucket filling is a wonderful concept that's used in many schools. It's a great fit with Kindness Elves, especially the pink Kindness Elves. If your child is 4-9 years old, you might want to use the original Have You Filled a Bucket Today? A Guide to Daily Happiness for Kids by Carol McCloud. The book says that "A bucket filler is a loving, caring person who says and does nice things to make others feel special." I think that's a good concept to reinforce with the pink Kindness Elves!

Fill a Bucket: A Guide to Daily Happiness for Young Children by Carol McCloud and Katherine Martin, M.A., recommended for ages 4-7, is a good introduction to bucket filling for children who are a bit younger. This is considered a "prequel" to Have You Filled a Bucket Today?" This is a great way to teach children that being kind to others helps bring happiness to both others and themselves. But bucket filling is an abstract concept that will take most children awhile to understand. The exact age to introduce it is best individualized according to the child's developmental level. This is the book that I like for the first introduction to bucket filling for a child Zoey's age who's ready to be introduced to the concept.
Simple Literature-Based Ideas with the Green Kindness Elves
The green Kindness Elves are named Flora and Sage, Ivy and Rock. They're the "Nature Lover" elves!
"The Nature Lovers love to be outside playing and exploring! They are tree climbers, forest explorers, beach diggers, wave jumpers, leaf throwers and puddle splashers! They care for the environment and all animals, both wild and pets at home. They take a special interest in the plants and flowers, cultivating their own beautiful gardens to bring happiness to others!"
I haven't introduced Zoey to Flora and Sage yet, although I'm sure she'll love them! Of course, they'll probably end up with new names!
I plan to use the classic picture book (A Caldecott medal winner) A Tree is Nice to introduce the green Kindness Elves. Because the book emphasizes the beauty of the Earth, I want to use it to emphasize the importance of taking care of our environment. This book is recommended for ages 4-8.
Another book that would be great as a literature-based introduction to the green Kindness Elves is Brother Eagle, Sister Sky with paintings by Susan Jeffers. The book contains the important message of Chief Seattle about showing respect for the Earth and all creatures on the Earth. This book is recommended for ages 4-8.
Activities from my post about gardening activities with the Kindness Elves would be perfect with the green Kindness Elves! I used children's books with those activities, too.
A Fabulous New Resource for Summer: Camp Kindness eBook!
I was also given a copy of the eBook Camp Kindness to review. I'm so excited!
Camp Kindness has 6 weeks worth of activities and acts of kindness. It has lots of printables and focuses both on having fun and teaching empathy! You can start it whenever you wish.
The book contains:
 6 weeks worth of easily achievable and fun activities for kids to do 5 days per week for 6 weeks

 6 weeks worth of easily achievable and fun Acts of Kindness ideas to do 5 days per week for 6 weeks. These are sometimes even linked to the activities too.

 30 printable ice cream shaped activity cards

 30 printable heart shaped Acts of Kindness cards

Labels, lists, scavenger hunt and Camp Kindness completion certificate to print
I'm really looking forward to doing Camp Kindness activities with Zoey!
The Ultimate Guide to Kindness Elves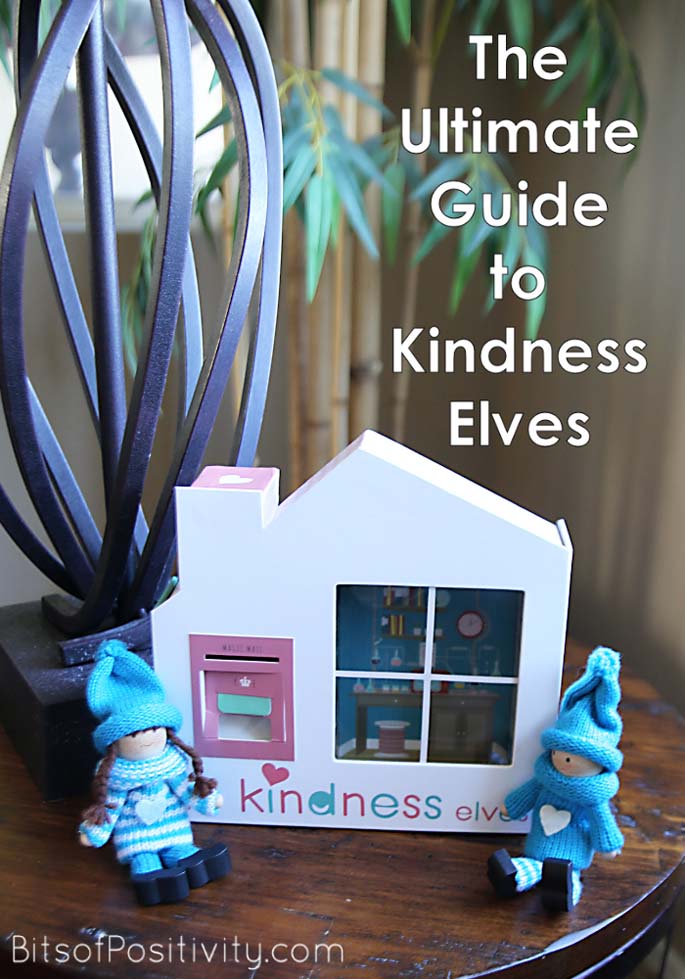 You can find links to all of my Kindness Elf posts in my Ultimate Guide to Kindness Elves post.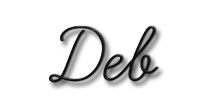 Wondering where it's best to follow me?
If you're interested in kid-related content, sign up for the Living Montessori Now newsletter. I share my Bits of Positivity parenting and character-education posts in the weekly Living Montessori Now newsletter along with lots of great kids' activities and Montessori ideas from my Living Montessori Now blog. You'll get a monthly freebie (and previous monthly freebies) with link and password if you subscribe to the Living Montessori Now weekly newsletter!

If you're interested in inspiration and motivation, the best place for you will probably be the Bits of Positivity Facebook page. You'll find lots of inspiration there from the Bits of Positivity blog and from around the Internet. For word art inspiration, be sure to follow me at the Bits of Positivity Facebook page and on Pinterest! And for all my posts in a reader, check out Bloglovin'! Thanks so much!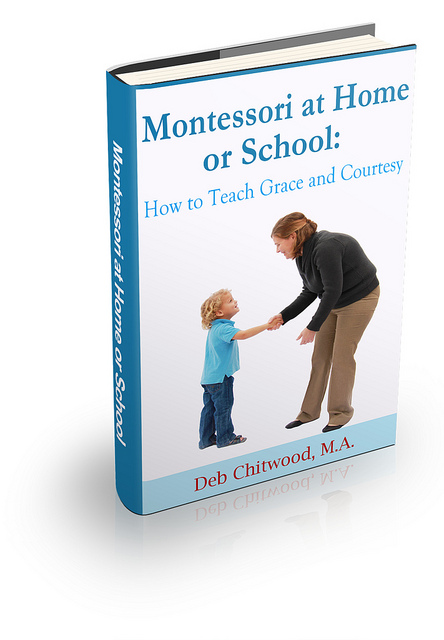 Learn more about my eBook Montessori at Home or School: How to. Teach Grace and Courtesy! I'm also one of the coauthors of the book Learn with Play – 150+ Activities for Year-round Fun & Learning!
May be linked to Practical Mondays Link Up, LouLou Girls, Hip Homeschool Hop, Tasty Tuesdays, A Little Bird Told Me Linky Party, Link-ups at Squishable Baby, Preschool Corner, Sharing Saturday, Tot School Gathering Place