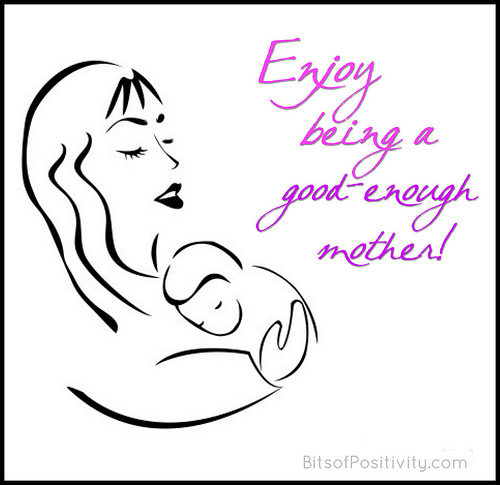 So many of us mothers want to be perfect mothers. But that's obviously impossible. I've grown to like the concept of being a good-enough mother.
I remember wanting to be a more-perfect mom years ago, and I can only imagine how much worse the Internet has made things for moms with perfectionistic tendencies today. Who can possibly be a saintly mother happily creating even a fraction of all the wonderful materials, amazing activities, and fun foods found on Pinterest alone?
I love this post by Jennifer Kunst, Ph.D., at Psychology Today: Searching for the "Good Enough" Mother.  These ideas are so important for all mothers:
"It takes an imperfect mother to raise a child well. You see, children need to learn about life through real experiences. They need to learn to deal with disappointments and frustrations. They need to overcome their greed and their wish to be the center of the universe. They need to learn to respect the needs and limitations of other people, including their mothers. And they need to learn to do things for themselves."
And I really love this post by April Perry at The Power of Moms: Your Children Want YOU!
Whether you're a sports mom, homeschool mom, career mom, or any other type of mom, I hope you'll give yourself permission to be happily imperfect. Here's a post I wrote at Living Montessori Now about learning what my kids really needed: Top 5 Homeschool Lessons My Children Taught Me.
Despite my imperfections, my now-adult kids turned out great. I'm incredibly proud of my kids. I've learned that being a good-enough mother is good enough!
"The Ideal Mother" Word-Art Freebie
Happy Mother's Day weekend! Enjoy being a good-enough mother! 🙂
Linked with The Mommy Club Resources and Solutions at Milk and Cuddles and Crystal & Co. and Thought-Provoking Thursday.