We do Kindness Elves a bit differently at this grandma's house. I typically take care of my 3-year-old granddaughter, Zoey, three afternoons each week. So we aren't able to do the 12 Magical Days of Kindness starting December 12. Instead, we do Kindness Elf activities throughout December whenever we can. Rather than going outside the home, we started with the Kindness Elves encouraging acts of kindness in the family.
Disclosure: This post contains affiliate links (at no cost to you).
Previous Work with the Kindness Elves
We started using the Kindness Elves last Christmas, when Zoey was 2 years old. We kept our activities very simple … a fun way for Zoey to begin thinking about kindness at Christmas. Most of our acts of kindness were in the family last year, too. I think that makes the most sense for toddlers and young preschoolers (although it's good to work on kindness in the family at any age).
Using Kindness Elves to Encourage Acts of Kindness in the Family
We'll move outside the home this week, but here are our Kindness Elf activities encouraging kindness in the family. I use the blank hearts that come with the Kindness Elves Accessories Kit to leave a message near the Kindness Elves. There are also easily printable hearts in the Kind Classroom eBook, which I love for classrooms, homeschools, and homes where a child attends a school.
The Kindness Elves: "Let's share a snack with Grandpa!"
Zoey loves sharing her snack with Grandpa when she's at our home. She loves sharing it with me, too, but she especially likes to prepare a special snack for her and Grandpa to eat together. Her favorite was when she cored and sliced apples, spread apple slices with peanut butter, and shared them with her grandpa. You can see an adorable video with her snack preparation and sharing at Living Montessori Now.
Zoey also has fun slicing bananas. She was excited to slice a banana and share half with her grandpa.
The Kindness Elves: "Let's make some wrapping paper for Mom and Dad!"
The Kindness Elves were sitting on a tray with tissue paper and a Christmas hole punch. Their message nearby said, "Let's make some wrapping paper for Mom and Dad." This was to complete the super-cute cinnamon stick Christmas tree ornaments Zoey made earlier. But shhh … don't say anything because Zoey's mom and dad won't get their presents until Tuesday.
You'll be able to see the tutorial for the wrapping paper at Living Montessori Now tomorrow!
The Kindness Elves: "Let's  make super-healthy fruit smoothies for our family!"
Our family is into healthy eating and living, and we create new healthy recipes often. But this time we used a recipe created by my husband, Zoey's grandpa!
Zoey made one of our favorite smoothies, a pineapple strawberry smoothie, to share with the family. She even saved a special glass of it for when her mom came to pick her up. On Tuesday, December 27, you can get the recipe at Living Montessori Now!
The Kindness Elves: "Let's call Great-Grandma and Great-Grandpa!"
The Kindness Elves were sitting on my phone on an end table with a message nearby: "Let's call Great-Grandma and Great-Grandpa!" We planned to do that once Zoey was fully awake from her nap yesterday. But Great-Grandma called us first. So we'll save a surprise call for another day.
The Kindness Elves: "Let's clean Auntie Chrissy's makeup brushes!"
Zoey's Auntie Chrissy (my daughter) is a health, fitness, fashion, and beauty blogger, so she takes much better care of her makeup brushes and sponges than I do with mine. One day, she was washing her makeup sponges at my house when Zoey wanted to join in. Zoey fell in love with washing makeup sponges and brushes. She does a great job, and it's actually a wonderful practical life activity. It helps Christina to have Zoey do that, too.
So the kindness elves had a message at the sink: "Let's clean Auntie Chrissy's makeup brushes!"
You might notice that Zoey loves all these activities. And that's great. They're still acts of kindness when they do something kind for someone else. They can be something the person doing the kindness enjoys as well.
The Ultimate Guide to Kindness Elves
I've collecting Kindness Elf activities and ideas since they first came out a few years ago. You can find all of my Kindness Elf posts in my Ultimate Guide to Kindness Elves.
The Story of the Kindness Elves

Oh, and the new children's book The Story of the Kindness Elves is on sale now!!! I've ordered one. You might not get yours before Christmas. But you can use Kindness Elves year round!




I'd love to hear if you're using Kindness Elves to encourage kindness in your home. 🙂

Wondering where it's best to follow me?
If you're interested in kid-related content, sign up for the Living Montessori Now newsletter. I share my Bits of Positivity parenting and character-education posts in the weekly Living Montessori Now newsletter along with lots of great kids' activities and Montessori ideas from my Living Montessori Now blog. You'll get a monthly freebie (and previous monthly freebies) with link and password if you subscribe to the Living Montessori Now weekly newsletter!

If you're interested in inspiration and motivation, the best place for you will probably be the Bits of Positivity Facebook page. You'll find lots of inspiration there from the Bits of Positivity blog and from around the Internet. For word art inspiration, be sure to follow me at the Bits of Positivity Facebook page and on Pinterest! And for all my posts in a reader, check out Bloglovin'! Thanks so much!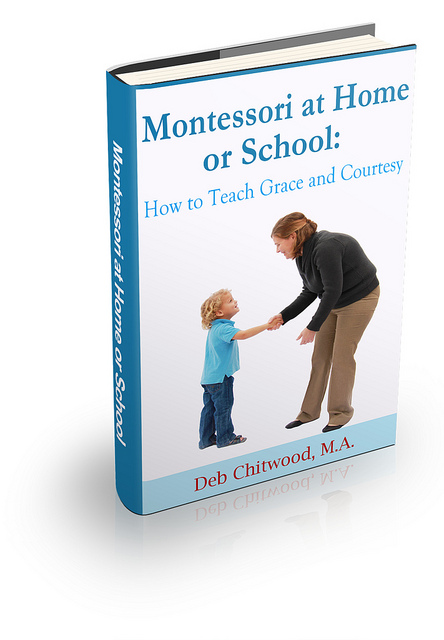 Learn more about my eBook Montessori at Home or School: How to. Teach Grace and Courtesy! I'm also one of the coauthors of the book Learn with Play – 150+ Activities for Year-round Fun & Learning!
May be linked to Practical Mondays Link Up, LouLou Girls, Hip Homeschool Hop, Tasty Tuesdays, A Little Bird Told Me Linky Party, Link-ups at Squishable Baby, Preschool Corner, Sharing Saturday, Tot School Gathering Place