We want our children and grandchildren to be loving and to know how to show their love. But sometimes they need a bit of help to know how to express it. It's best if they develop habits of showing love and consideration for family members and others from a young age. It's also helpful for them to do something personalized and special for holidays such as Father's Day. One of my favorite ways to help young children show their love on Father's Day is through a Father's Day questionnaire.
Questionnaires can help a young child think about the special things his or her father or grandfather does. That's also a great way to encourage gratitude. Father's Day questionnaires are fabulous keepsakes … and the answers are often funnier than something we adults would think up. I love that a questionnaire doesn't take up a lot of space to store, and it's something fathers, grandfathers, or whoever is given the questionnaire will always treasure. Just think what fun it would be to revisit the questionnaire together in the future!
I helped my 3½-year-old granddaughter, Zoey, make a Mother's Day card with a printable questionnaire (with the answers dictated by Zoey and filled in by me) glued inside the card. Zoey decorated the outside and wrote her name on the questionnaire.
For Father's Day, I helped Zoey make a Father's Day card using a printable questionnaire. Her answers are priceless!
20+ Free Father's Day Questionnaires
Here are 20+ free Father's Day questionnaires you can choose from to print out and frame or put in a card. My favorite ages for this activity are 3-5. It's often difficult for 2 and 3 year olds to answer many questions, so choose a simple version if you try the activity at those ages.
I typically write the answers on a separate page and then transfer them to the card once I have all the answers. If Zoey had a difficult time answering a question, I left it and came back to it later. For young children, you might want to phrase the questions as sentences where they fill in the blank at the end. For many children, that can be easier. Then just change the format of the answers to fit the questions you have. (See the questionnaire from Mama.Papa.Bubba at the bottom for inspiration.)
Free Printable Book about Dad (a book version of the questionnaire) from The Measured Mom (This book is available in different versions – dad, daddy, papa, grandpa, or blank lines for the name.)
Silly Father's Day Blow Painting and Printable Questionnaire from I Can Teach My Child
Me and My Dad Father's Day Printable by Kids Activities Blog for BonBon Break
"You Are My Father" Star Wars Father's Day Questionnaire from Raising Little Superheroes (no longer available)
Father's Day Questionnaire from Kinzie's Kreations
All About My Daddy Father's Day Questionnaire (great for 2 and 3 year olds) from Mama Miss
My Dad – a Father's Day Questionnaire from Mama Miss
Printable All About My Dad Questions from Crafty Morning
All About My Dad from 1+1+1=1 (available for dad, grandpa, or blank area for name)
I Love My Dad Father's Day Questions from Your Modern Family
My Dad – The Low-Down and My Rad Dad Questionnaires (available without year) from Learn with Play at Home
All About My Dad: A Fun Questionnaire for Father's Day from Not Just Cute
Printable Father's Day Interview – All About My Dad from What Mommy Does
All About Dad Father's Day Questionnaire by Printable Crush for Thirty Handmade Days
Free Printable Father's Day Gift for Dad and Grandpa from Sunny Day Family
Father's Day Questionnaire for Dad and Grandpa from The Crafting Chicks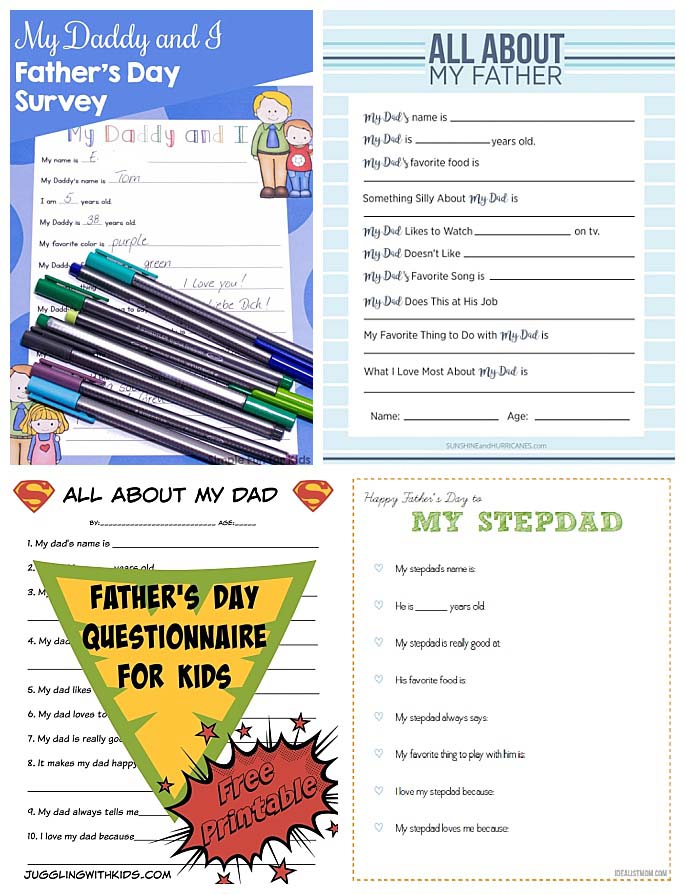 My Daddy and I Father's Day Survey (subscriber freebie) from Simple Fun for Kids
All About My Dad – A Printable Father's Day Questionnaire (subscriber freebie – two versions) from Sunshine and Hurricanes
All About My Dad Father's Day Questionnaire for Kids (subscriber freebie) from Juggling with Kids
Happy Father's Day to My Stepdad (subscriber freebie) from The (Reformed) Idealist Mom
All About Dad Questionnaire from Photokapi
Father's Day Interview Prompts from One Time Through
Not Printables – Simply Questions You Can Ask to Create Your Own Questionnaire
Keepsake Questions to ask kids on Mother's Day, Father's Day, … or ANYDAY (in case you just want ideas for questions to ask) from Play Dr Mom
20 Questions about Dad (for Your Child to Answer) from Betsy Finn
Father's Day Questionnaire and Portrait from Mama.Papa.Bubba (The download links aren't working right now, but you can see the interview questions.) I like the idea of having the child fill in the end of the sentence instead of answering a question. It might be easier for many young children to do it that way. I also love the idea of using a digital photo page with questions and answers (The example is from a birthday, but it would work well for Father's Day, too).
More Father's Day Resources
Happy Father's Day! 🙂
Wondering where it's best to follow me?
If you're interested in kid-related content, sign up for the Living Montessori Now newsletter. I share my Bits of Positivity parenting and character-education posts in the weekly Living Montessori Now newsletter along with lots of great kids' activities and Montessori ideas from my Living Montessori Now blog. You'll get a monthly freebie (and previous monthly freebies) with link and password if you subscribe to the Living Montessori Now weekly newsletter!

If you're interested in inspiration and motivation, the best place for you will probably be the Bits of Positivity Facebook page. You'll find lots of inspiration there from the Bits of Positivity blog and from around the Internet. For word art inspiration, be sure to follow me at the Bits of Positivity Facebook page and on Pinterest! Thanks so much!
Learn more about my eBook Montessori at Home or School: How to. Teach Grace and Courtesy!