"Hope is the thing with feathers
That perches in the soul,
And sings the tune without the words,
And never stops at all."
– Emily Dickinson
I love that stanza of Emily Dickinson's poem – a perfect thought for Breast Cancer Awareness Day! In honor of Breast Cancer Awareness Day and Breast Cancer Awareness Month, here's a word art freebie based on Emily Dickinson's words of hope:

To download word art (without watermark), click here, then right click on the image and choose "Save Picture As . . ."
Pink breast cancer ribbon tree image by Cienpies Design.
I have lots of word-art inspiration at the Bits of Positivity Facebook page and on Pinterest!
What I'm Doing This Month for Breast Cancer Support
Please check out my post from earlier this month to see what my family and I are doing for Breast Cancer Awareness Month (and for ideas of what you can do, too): Are You Going Pink for Breast Cancer Awareness Month?
If you'd like to donate to Susan G. Komen for the Cure, please donate through the Fabulous Chitwood Ladies Team page. If you'd like to donate to the American Cancer Society, please donate through Small Hands Creating Hope (and receive a free eBook filled with kid-friendly activities). Thanks so much for joining us in our campaign for breast cancer support – and in our hope for the cure!
Go Pink Blog Hop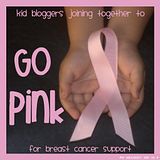 Welcome to the Go Pink Blog Hop! Please check out the pink posts of the kid bloggers co-hosting this blog hop:
We invite you to share your pink-themed posts about how you are reaching out into your community or into your own homes and playgroups to spread the word.