Last month, I went orange for No Kid Hungry. This month, I've gone pink for National Breast Cancer Awareness Month. My mom is a breast cancer survivor, so this is a cause that's very important to me. Fortunately, because of early detection, my mom's treatments were the mildest possible.
I was surprised at first when I found this quote during my research about breast cancer:
"People used to say everyone knows someone who's had breast cancer. In the past few weeks, I've learned something else: Everyone has someone close to them who has had breast cancer."
– Debbie Wasserman Schultz
And yet, that shouldn't be surprising. According to the American Cancer Society:
Breast cancer is the most common cancer among American women, except for skin cancers. About 1 in 8 (12%) women in the US will develop invasive breast cancer during their lifetime.

The American Cancer Society's most recent estimates for breast cancer in the United States are for 2012:

About 226,870 new cases of invasive breast cancer will be diagnosed in women.
About 63,300 new cases of carcinoma in situ (CIS) will be diagnosed (CIS is non-invasive and is the earliest form of breast cancer).
About 39,510 women will die from breast cancer
There are lots of wonderful organizations in addition to the American Cancer Society participating in Breast Cancer Awareness Month. While many of the organizations are important fundraisers for research, they also have information for women who've been diagnosed with breast cancer as well as their loved ones. Susan G. Komen for the Cure even has a section on "What to Say to a Loved One" who has been diagnosed with breast cancer. You'll also find lots of information at BreastCancer.org.
There are so many ways to get involved. Here's what my daughter, Christina, daughter-in-love, Chea, and I are doing:
I've gone pink for the month.
My Twitter account at @DebChitwood and Facebook profile have pink ribbons. I found the ribbon for @DebChitwood on Twibbon. Twibbon has a number of different ribbons for Breast Cancer Awareness. I chose one that had a cover photo for my Facebook profile as well. I just used a copyright-free clipart image for the breast cancer awareness ribbon I added to my blog image. (Note: If you're planning to buy something pink for Breast Cancer Awareness Month, check out this post first: Critical Questions to Ask Before You Buy Pink from Think Before You Pink.)
Christina and Chea are participating in Susan G. Komen breast cancer awareness events in the San Diego area.

Christina will participate in "Rally for the Cure" at The Farms Golf Club today.
Christina and Chea will participate in the Debbie Berton Walk on Sunday, October 28.
Christina and Chea will participate in the Race for the Cure, 5k on Sunday, November 4.
Here's the donation page for The Fabulous Chitwood Ladies Team. If you'd like to help, that would be awesome! Unfortunately, I can't be in San Diego for these events, but I'll be one of Christina and Chea's supporters!
Note: Christina has a post from last year called "Top 10 Ways to Perform for a Cause" with more ideas on how anyone can help.
I'm promoting breast cancer awareness all month.
Along with other inspirational/motivational posts, I'll be promoting breast cancer awareness on Twitter and Facebook.
And in honor of Breast Cancer Awareness Month, we're keeping the Small Hands Creating Hope fundraiser for the American Cancer Society open throughout October. Our goal is to raise $3,000. We've raised $1,220 so far. As a gift for donating at least $15, you'll receive a beautiful Small Hands Creating Hope eBook. Along with the eBook link, you'll receive a link to purchase a print copy of the book at cost if you'd like one in addition to your eBook. The book is filled with kid-friendly crafts and tutorials from over 40 bloggers, including me.
I have a word art freebie of a quote I love by Kay Yow.
"When Life Kicks You" Word Art Freebie (without watermark)
Thanks so much for making a difference! 🙂
Go Pink Blog Hop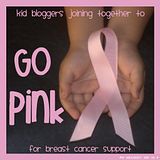 Welcome to the Go Pink Blog Hop! Please check out the pink posts of the kid bloggers co-hosting this blog hop:
We invite you to share your pink-themed posts about how you are reaching out into your community or into your own homes and playgroups to spread the word.