Happy 2015! I'm excited to share the best of 2014 from Bits of Positivity!
I share a number of different types of posts at Bits of Positivity. Today, I'm sharing my most popular kid-related post, which is from my main kid-related category at Bits of Positivity … character education. Thanks to all the Bits of Positivity readers for helping make 2014 a wonderful year!
My Most Popular Posts of 2014 at Bits of Positivity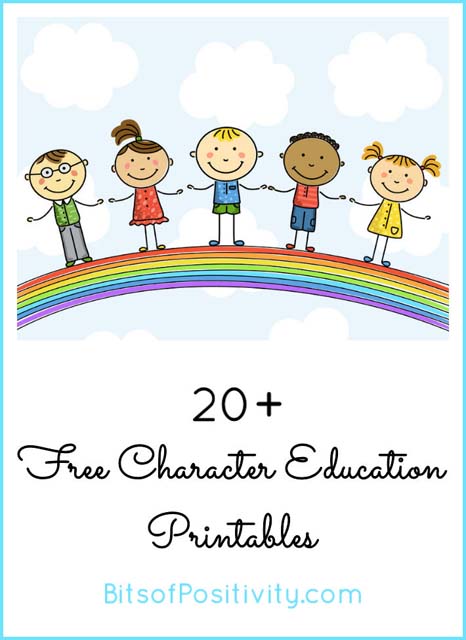 For the Best Kids Activities of 2014 Blog Hop, I'm sharing my second most popular post. That post was 20+ Free Character Education Printables. I love finding ways to help kids develop character, and I had a lot of fun finding some wonderful free printables for this post.
My most popular post was Operation Beautiful Meets 100 Acts of Kindness Project. This project can be used with kids, although my now-adult daughter and I did the project together. Because it can be for either families or adults, I didn't include it in this blog hop. Still, it was a wonderful project … very meaningful and one that encourages kindness and compassion (two character traits that are very important to me).
The Best Kids Activities of 2014 Blog Hop
Be sure to check out my co-hosts from Kid Blogger Network. They've put together their favorite- and/or most popular posts from 2014. You can find my co-hosts best posts of 2014 in the linkies below.
CRAFT POSTS:
EDUCATION POSTS:
PARENTING POSTS:

Thanks so much to MaryAnne from Mama Smiles for organizing the blog hop and pinning the posts. Here's the link to MaryAnne's Pinterest board for the Best Kid Blogger Posts of 2014.
I hope you and your family have a fabulous 2015!

Wondering where it's best to follow me?
If you're interested in kid-related content, sign up for the Living Montessori Now newsletter. I share my Bits of Positivity parenting and character-education posts in the weekly Living Montessori Now newsletter along with lots of great kids' activities and Montessori ideas from my Living Montessori Now blog. You'll get a monthly freebie (and previous monthly freebies) with link and password if you subscribe to the Living Montessori Now weekly newsletter!

If you're interested in inspiration and motivation, the best place for you will probably be the Bits of Positivity Facebook page. You'll find lots of inspiration there from the Bits of Positivity blog and from around the Internet. For word art inspiration, be sure to follow me at the Bits of Positivity Facebook page and on Pinterest! And for all my posts in a reader, check out Bloglovin'! Thanks so much!
Learn more about my eBook Montessori at Home or School: How to. Teach Grace and Courtesy!