"A Fallen Limb" is a beautiful poem that's perfect for families who have experienced the loss of a special family member. The author is unknown.
A Fallen Limb
A limb has fallen from the family tree.
I keep hearing a voice that says,
"Grieve not for me.
Remember the best times,
the laughter, the song.
The good life I lived
while I was strong.
Continue my heritage,
I'm counting on you.
Keep smiling and surely
the sun will shine through.
My mind is at ease,
my soul is at rest.
Remembering all,
how I truly was blessed.
Continue traditions,
no matter how small.
Go on with your life,
don't worry about falls.
I miss you all dearly,
so keep up your chin.
Until the day comes
we're together again."
– Author Unknown
I created a free printable based on "A Fallen Limb" in loving memory of my aunt Beth, who died of glioblastoma (brain cancer) after a truly inspiring two-year battle. This poem was read by my aunt Carolyn at a small family gathering to spread Beth's ashes. It so perfectly expresses Beth's positive attitude; life filled with good friends, world travel and adventure; and, always, love of family. Rest in peace, Beth.
For printing, feel free to download the higher quality free printable without watermark. If you'd like to share the image online, please use the image with the watermark. I always appreciate when you link to my post, too.
To download printable poem without watermark, click here, then right click on the image and choose "Save Picture As . . ."
You might like:
"To Live in Hearts" Word Art Freebie
With A Loving Heart: Leaving a Family Legacy (in loving memory of a loving mom and grandma)
If you've experienced the death of someone close to you, you might find comfort in this post by my husband, Terry, at Spring Snow Publications –  Death: The Beginning of Life.
Wishing you strength, comfort, and peace if you've experienced the loss of a loved one.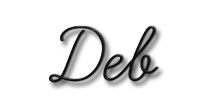 Wondering where it's best to follow me?
If you're interested in kid-related content, sign up for the Living Montessori Now newsletter. I share my Bits of Positivity parenting and character-education posts in the weekly Living Montessori Now newsletter along with lots of great kids' activities and Montessori ideas from my Living Montessori Now blog. You'll get a monthly freebie (and previous monthly freebies) with link and password if you subscribe to the Living Montessori Now weekly newsletter!

If you're interested in inspiration and motivation, the best place for you will probably be the Bits of Positivity Facebook page. You'll find lots of inspiration there from the Bits of Positivity blog and from around the Internet. For word art inspiration, be sure to follow me at the Bits of Positivity Facebook page and on Pinterest! And for all my posts in a reader, check out Bloglovin'! Thanks so much!
Photo Credit: Background Photo for Poem from GoodFreePhotos.