I love making intense efforts at various times to improve my blogs, but this is my first blogathon! If you follow my blog, you know that I love 30-day challenges. And I've already gone through 31 Days to Build a Better Blog twice along with other bloggers on Blog Frog. I loved it and learned a lot each time.
The Summer 2012 Blogathon should be both productive and enjoyable … three days of intense blogging and networking fun! It starts at 8:00am EST today, and you can still sign up!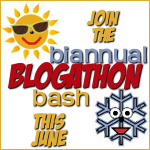 The most important part of the Summer Blogathan is spending lots of concerted effort on improving our blogs. Ideally, we'll put in 24 hours of blogging over the 72 hours of the Blogathon, although we can do as little or as much as we like. There are giveaways and fun events like Twitter parties as well. But I think my favorite parts of the blogathon are the mini challenges.
Summer 2012 Blogathon Mini Challenges
The Blogathon mini challenges have been put together by some of the participating bloggers to help others learn a new skill or get better at doing something they already know. You can pick and choose the ones you're interested in. Read over the information and then do whatever the mini challenge requires sometime during the blogathon (June 22 8am EST – June 25 8am EST) for an extra chance at winning prizes.
Here are the mini challenges I plan to do:
How to Write a Better Tweet on Twitter
@ Callista's Ramblings
Dofollow Vs. Nofollow
@ Life as Leels
How to Make Photo Collages To Use On Your Blog
@ American Mom in England
Using Google Calendar
@ Letters Inside Out
Tools to Make Twitter Work for Your Blog
@ Tweedle Dee and Tweedle Dave
Blogger SEO Basics
@ Geek With Style
How To Monetize Your Blog in 5 Easy Steps @ Sunshine and Sippy Cups
Yes, I'll be busy this weekend! And there are even more mini challenges offered at Biannual Blogathon Bash Mini Challenge List!
My Blogging Goals for the Summer 2012 Blogathon
Since I like challenges, my main goal will be to complete the mini challenges I've selected. I picked a lot of challenges and some that will take a significant amount of time. Those will keep me quite busy!

I'll also work on fixing any broken links here, at Living Montessori Now, and at Spring Snow Publications using the Broken Link Checker plugin.


I'll work on adding some watermarks and tags to photos along the way.

And I'm always working to improve older posts at all my blogs.

There are a million other things I could do as well … how can blogging have so many tasks that could or should be done?!!! But 24 hours of focused blogging this weekend should help me make some real progress!
But the main thing is that I'll be making an intense effort to improve my blogs … and I'll have fun doing it! I'd love to have you join us for the Summer 2012 Blogathon! 🙂
"Do Whatever You Do Intensely" Word Art Freebie (without watermark)
Photo Credit: Photo at the top of this post by Amy Gahran at Flickr Creative Commons.