The giveaway has ended. But read my review below to learn more about Family Time Fitness and to learn about the special offer for my readers.
Disclosure: I was given a copy of the Core 1 Curriculum Program to facilitate my review. I was not required to give a positive review. All opinions are honest and my own. This post contains affiliate links at no cost to you.
I'm excited to host a giveaway of some very positive products for families! Family Time Fitness is sponsoring the worldwide giveaway of 1 Platinum Package worth $127 and 2 Core Curriculum Programs worth $57 each!
After-Giveaway Code: Don't miss this special offer: Family Time Fitness has a special code for my readers: enter BOSLMN15 for a $15 gift card for the Family Time Fitness site!

Why I Recommend Family Time Fitness
Family Time Fitness products are great for
Homeschools
Co-ops
Schools
Families
Youth Sports
After raising two children who became elite athletes, I truly realized the value of daily exercise for healthy habits as children and later on as adults. I've been happily surprised to see how committed my now-adult children are to their health and physical fitness after athletic training and having healthy habits throughout childhood.
I didn't plan for my kids to be athletes. I homeschooled Will and Christina through high school, but I didn't even have a good program for their physical education in the beginning. I wasn't an athlete growing up, so physical education was our weakest subject. If Family Time Fitness would have been available back then, I definitely would have used it. Since we didn't have a good physical education program, physical education was hit-or-miss in the early years of our homeschooling. We did some stunts and tumbling (my favorite athletic activities) and introduced various sports (thanks to my husband, who was an athlete), but Will wasn't very interested. We just assumed he wasn't an athlete.
When Will was introduced to skiing through Cub Scouts just before turning 8, we discovered he was a natural and had an amazing sense of balance. Later on, we discovered that foot sports in particular were his specialty. Even though he had a late start, Will went on to become an international competitor in pairs figure skating. Christina loved dance and almost every sport from the beginning, so for her it was just a matter of following her interests to find the best sport for her.
A program like Family Time Fitness would have given Will a solid foundation and regular physical fitness from the beginning. It would also have helped us identify his strengths and interests much sooner.
Family Time Fitness Core and Platinum Curriculum Programs
The Family Time Fitness programs are designed for ages 5-13, although there are many activities that could be used with younger and older children. Next Wednesday, I'll publish a post at Living Montessori Now with some Montessori-inspired activities for using Family Time Fitness with preschoolers.
The Family Time Fitness materials are easily downloadable and can be used on a computer, tablet, or smart phone. My preference would be to have the materials on a tablet for easy accessibility indoors or outdoors. If you don't have an easy way to take the online materials outdoors, there's a one-page summary for each lesson you can print out and take outdoors with you.
I love that the lessons are simple and unintimidating for parents without an athletic background. Each lesson has a description of the activity and a short video demonstrating the activity. The equipment needed is inexpensive and easily purchased, such as hula hoops, jump ropes, bean bags, playground balls, cones, measuring tape and a stop watch.
If you can't do some of the activities outdoors, you can even do them indoors in a rec room or your living room. I really appreciate that the activities are designed for use with multiple ages and are fun ways to develop gross-motor skills and get exercise at the same time. This really is a program any family can do.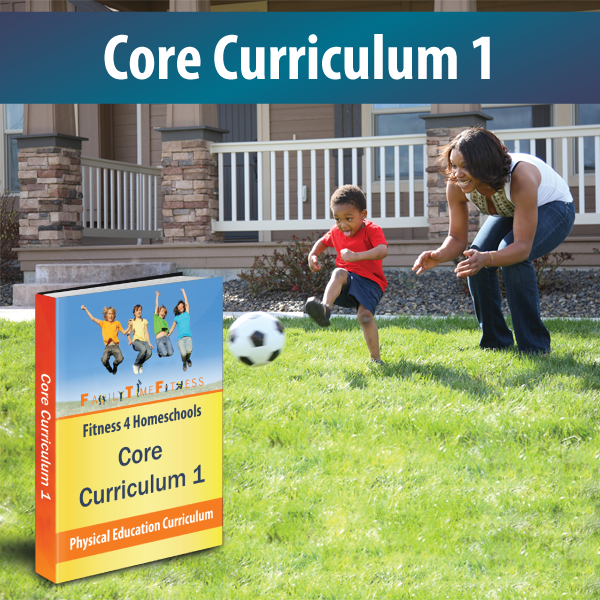 Core 1 Physical Education Curriculum (K-8) $57

260 different workouts
Fitness program for kids and families
Over 200 different fitness exercises and games
Can be done indoors or outside
Used by every family member
Accessible from any computer, tablet, or smart phone
Here's an overview of the Family Time Fitness Homeschool Core 1 Curriculum Program:
Note: Family Time Fitness has other great fitness products as well. Be sure to check out the site thoroughly! One of optional entries will be for visiting Family Time Fitness and leaving a blog post comment here telling something you learned.
Reviews from Homeschooling Families
Since my kids are grown, I can't give a review of the program in action. Here are links to some helpful reviews by homeschool families who were able to test out the programs in their homeschools:
UPDATE: Check out my post at Living Montessori Now with Montessori-inspired physical fitness activities for preschoolers, featuring Family Time Fitness lessons.
The Giveaway
What You Will Win:
1 VERY LUCKY grand prize winner will win a $127 Family Time Fitness Platinum Package!

2 LUCKY 2nd place winners will win a $57 Family Time Fitness Core 1 Package!

Be sure to use an e-mail address in your blog post comment through which you can be easily reached if you win.
Who is Eligible:
This giveaway is open to anyone 18 and older worldwide. The first entry is mandatory. You must leave a blog post comment telling why you want to win (and be sure to say you did that on the Rafflecopter form)! After you've completed your mandatory entry, there are lots of optional entries. You have many chances to win! (Note: For the extra entries, you may count ways of following that you already do. For example, if you previously "liked" Bits of Positivity on Facebook, you may still count that for your "like"Bits of Positivity on Facebook entry!)
It's easy to enter giveaways with Rafflecopter! Just follow the directions to enter.If you still have questions about the Rafflecopter form, here's a 52-second video with quick directions for entering through Rafflecopter. (Note: If you have any problems with the Rafflecopter form here, the same form is embedded at the Bits of Positivity Facebook page, where you can enter instead. Just be sure to leave your blog comment here!)

You must complete the Mandatory Entry to qualify for any additional entries. The giveaway closes 10:00pm MST on Thursday, August 15. Best of luck!


a Rafflecopter giveaway

UPDATE:
It's Friday morning, August 16. I really appreciated the 792 entries! 3 winners have been selected using Random.org through Rafflecopter!
The grand prize winner of the $127 Platinum Package is Brytny M.!!! I'm so happy for Brytny, who had multiple entries!
The comment for Brytny's mandatory entry (why she wanted to win) said:
"this would be helpful to me so I could be active with my kids and have some fun"
The winner of a second-place prize of a $57 Core 1 Program is Brenda M! I'm so happy for Brenda, who had more than multiple entries!
The comment for Brenda's mandatory entry (why she wanted to win) said:
"I just came across your article on Pinterest about reducing sibling rivalry. That let me to this. The Family Time Fitness Program would be awesome!"
The winner of another second-place prize of a $57 Core 1 Program is Mary M! I'm so happy for Mary, who had multiple entries!
The comment for Mary's mandatory entry (why she wanted to win) said:
"This would be great for the kids in our co-op! Weather in Missouri is unpredictable, so we try to incorporate some kind of class for the youngest children to keep them moving at least one hour each semester. I am starting to run low on ideas and could use something fresh."
CONGRATULATIONS, Brytny, Brenda, and Mary!!! A Huge thank you to Family Time Fitness for sponsoring such a fabulous giveaway – and thank you to everyone who entered!
But that's not all!
Family Time Fitness has a special code for my readers: enter BOSLMN15 for a $15 gift card for the Family Time Fitness site!
Linked with Contest Girl and Free Sweepstakes and Contests