Are you a blogger? Do you often feel overwhelmed? What blogger doesn't?!
Disclosure: This post contains affiliate links (at no cost to you)!

It's hard to believe how many different skills a blogger needs. Few jobs require so many skills (and many of them difficult skills to master).
Still, blogging has been one of the best parts of my life. It's more than wonderful to get to do something I love so much, earn money from home, be part of such a special online community, and help people around the world.
But it isn't always easy, and the fast-changing nature of the blogosphere means I can't ever stop learning how to be a better blogger.
Of course, it can get pretty expensive to buy all the new books or courses that cover the topics I'm looking for.
Which is why I am so excited about the Genius Blogger's Toolkit.
It's a digital package packed full of brilliant tools to help you grow your blog, work smarter, and make more money.
The team at Ultimate Bundles has put together the best resources on all the topics that matter to bloggers, like mastering social media, monetization, creating and selling products, time management and productivity, nurturing an email list, and so much more.
Here's what you get:
24 eBooks
33 eCourses & audio files
5 printable packs
Total of 62 ebooks, ecourses & printables valued at: $3,665.40
17 bonuses valued at: $1,387 with tools and services to help you run your blog
Bundle price: Only $97!
This special deal ends Tuesday, November 1, 2016, at 11:59pm EST
It's even backed by a full 30-day money-back happiness guarantee, so you can make sure it's right for you. Get what you need to work smarter instead of harder, grow your platform, and earn more. Learn more or get your bundle HERE
Look at what you'll get:
17 Strategies I Used to Go from 17K to 350K+ Pageviews in 9 Months by Lena Gott ($25.00)
List Building Jumpstart by Laura Smith ($147.00)
Networking Tips to Take Your Business to the Next Level by Natalie Cutler-Welsh ($19.00)
Primp My Post by Angie Nelson ($17.00)
Rave: Turn Your Online Followers Into Fans by Allison Marshall ($149.00)
Content Cookbook by Prerna Malik ($199.00)
Done-For-You Blog Content Creation Kit by Tanya Peterson ($47.00)
Heart of Your Business Video Training by Adera Angelucci ($47.50)
Podcasters Secret Weapon: Ultimate Podcaster Launch Guide  by Luis Congdon ($9.00)
Simple Podcasting by Joe Pardo ($69.99)
Affiliate Marketing for Bloggers: The Fundamentals by Tasha Agruso ($75.00)
Affiliate Marketing Secrets & Strategies by Katie Hornor ($47.00)
BloggerRevolution™ Sponsored Content Master Guide:  How to Pitch, Create & Nail Sponsored Content Every Time by Bonnie LaVell ($279.00)
Brands Are Looking For YOU! by Karen Lee ($14.99)
How to Move from Blog to Business by Caz and Craig Makepeace ($67.00)
Launch Your Speaking Ministry by Sheila Wray Gregiore ($79.00)
Monetize45 by Tabitha Philen ($149.00)
PR + Marketing for Bloggers by Kaelah Flynn ($25.00)
The Concise Guide to Blogging for Business Growth by Ling Wong ($27.00)
Eat Pretty Things: Your Guide to Food Photography by Trisha Hughes  ($29.00)
Lazy Girl's Guide to Lightroom: Easy Photo Editing for Bloggers by Beth Bryan ($97.00)
Photoshop Your Biz: Learn Photoshop & Design On Your Own Schedule by Holly McCaig ($79.00)
Systematize Your Branding by Indigo Colton and Kaitlyn Kessler ($49.00)
Blog To Book: A Guide to Building Your Blog Business Through eBooks and Paperbacks by P.R. Newton ($7.99)
Building a Business: How to Dream, Plan, Make, Sell, and Share Your Online Shop by Maggie Whitley & Elise Blaha Cripe ($12.00)
Delight: The Digital Biz Owner's Guide To Creating A Pro Client + Customer Service Plan by Erika Madden ($11.00)
E-Course Creation 101 by Chantel Klassen ($97.00)
Formatting e-Books for Writers by Susan K. Stewart ($2.99)
From Idea to eBook by Mandi Ehman ($37.00)
Get Them Excited to Buy: Step-by-Step Guide for Converting Just Looking to Just Bought by Kelly Thorne Gore ($27.00)
How to Start Publishing for Kindle by Jeff Goins ($47.00)
Blogging Roadmap: The Simple Method for Creating A Profitable Blog by WellnessMama ($97.00)
Building a Framework: The Ultimate Blogging Handbook Master Package by Abby Lawson ($75.00)
Everything But the Posts: Tips, Advice, and Templates From a Blogger Who Has Been in Your Shoes by Becca Ludlum ($7.99)
Launch Your Dream Blogger's Bundle by Natalie Joy ($81.00)
The Foundation Series by Kirsten Oliphant ($49.00)
The Knowtbook: In-Depth Notes for Online Business by Amy Lynn Andrews ($24.00)
The Must-Have Guide to Blogging by Kayla Aimee ($17.00)
Facebook Live Bully by Dave Anderson ($37.00)
FB Ads for Beginners by Beth Anne Schwamberger ($75.00)
Growing With Groups by Val Geisler ($97.00)
InstaValuable :: Grow Your Instagram Basic Course by Myquillyn Smith ($97.00)
Pinaffiliate Masterclass by Adeline Ganley  ($97.00)
Pinterest Traffic Secrets by Bob Lotich ($149.00)
Snapchat for Influencers by Amy Bellgardt & Jessi Sanfilippo ($9.99)
Social Media Marketing Workbook and Planner: How to Master Engagement in 15 Minutes a Day by Dwainia Grey ($27.00)
Stop Guessing: Your Step by Step Guide to Creating a Social Media Strategy by Jenn Herman ($9.99)
Strategies Worth Sharing eBook & Workbook by Brittany Ann ($30.00)
Triple Your Twitter by Helene Sula ($127.00)
Blog Beautiful: 50 Tips + Fixes to Make Your Blog Glow by Marianne Manthey ($24.00)
HTML and CSS Crash Course by Sarah Eggers ($129.00)
Sticky Blogging SEO: Climb to the Top With This 21-Day Course by Kelly Holmes ($99.00)
What the Tech? A Guide to Ease Your Technical Blogging Frustrations by Lesley Clavijo ($75.00)
You Have a Blog, Now What? Tips for Non-Techie Bloggers by Maria Davis ($19.00)
Asana for Bloggers by Matthew Giovanisci ($25.00)
Blog Buddies Planner Pages & Calling Cards by Mollie Johanson ($8.00)
Creating and Maintaining an Editorial Calendar by Angie Holden ($19.99)
Productivity Guide for Bloggers by Ruth Soukup ($97.00)
The Balanced Blog Planner by Amy Blevins ($49.00)
The Ultimate Freelancer Tax Guide by Caitlin Pyle ($9.99)
The Ultimate Unoffical Dropbox Guide by Jason Glaspey ($29.00)
Time Management Mama by Beth Anne Schwamberger ($5.99)
Plus, it comes with 17 digital bonuses valued at: $1,387, including:
First month AGhosted Solo FREE with FREE site transfer, FREE site transfer back within the first month (no questions asked) and FREE site speed assessment from Agathon ($405.00)
1 month unlimited plan FREE from Beacon ($29.00)
1 month B-Team Membership FREE from Bloguettes ($29.00)
3000 pins FREE from Board Booster ($30.00)
FREE privacy policy from Businessese ($40.00)
2 months FREE from ConvertKit ($58.00)
1 year digital membership FREE from iBlog Magazine ($70.00)
2500 FREE credits from Mouseflow ($29.00)
Any theme or plugin with one year of premium support and updates for $19 from MyThemeShop ($50.00)
2 months blogger level FREE from NinjaOutreach ($98.00)
2 months FREE from Send Owl ($78.00)
2 months pro level FREE from Stencil ($30.00)
1 month FREE from The Company Project ($27.00)
2 FREE exclusive fonts from The Hungry JPEG ($30.00)
3 months business package FREE from Thinkific ($237.00)
1 year FREE from VaultPress ($99.00)
2 months individual package FREE from Viraltag ($48.00)
In total, the toolkit includes over $3,500 of blogging tips, strategies, tutorials and amazingly practical information and ideas. Plus you get free bonus offers worth $1,387, with 17 tools and services to help you run your blog.
I know, it sounds too good to be true. But Ultimate Bundles has been around a long time. Creating these packages is really their thing (they've sold over 180,000 of them on all sorts of topics), so you can trust this is the real deal.
Here's how it works:
Visit their website, take a quick look at all the goodness that comes in this package, then click the green "Buy now!" button to go through their simple and secure 3-step checkout process.
You'll receive an email with a login to their online access portal, where you'll begin downloading your eBooks, signing up for your eCourses, and redeeming your free bonus offers.
Use their Genius Blogging Toolkit User Manual to get started.
Remember, though, that this bundle is available for just seven days! After Tuesday, November 1, 2016 at 11:59pm EST, the sale ends and you'd have to buy all of these products individually.
Get what you need for your blogging. Learn more or get your bundle HERE.
I'm always looking for new ways to improve my blogging skills, and I'm thrilled to see so many great products in one bundle. I've already purchased my bundle! It really is amazing!
Please join me!

Wondering where it's best to follow me?
If you're interested in kid-related content, sign up for the Living Montessori Now newsletter. I share my Bits of Positivity parenting and character-education posts in the weekly Living Montessori Now newsletter along with lots of great kids' activities and Montessori ideas from my Living Montessori Now blog. You'll get a monthly freebie (and previous monthly freebies) with link and password if you subscribe to the Living Montessori Now weekly newsletter!

If you're interested in inspiration and motivation, the best place for you will probably be the Bits of Positivity Facebook page. You'll find lots of inspiration there from the Bits of Positivity blog and from around the Internet. For word art inspiration, be sure to follow me at the Bits of Positivity Facebook page and on Pinterest! And for all my posts in a reader, check out Bloglovin'! Thanks so much!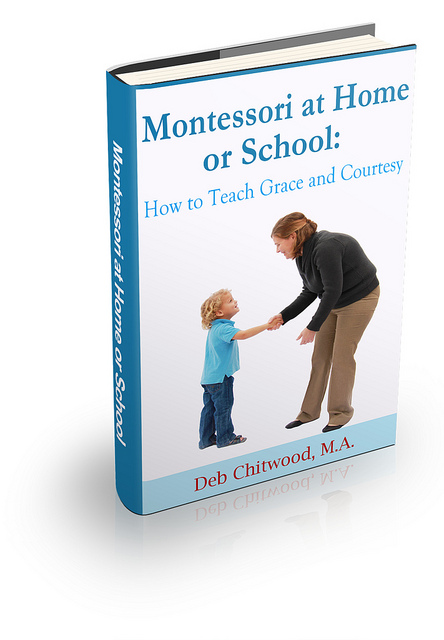 Learn more about my eBook Montessori at Home or School: How to. Teach Grace and Courtesy! I'm also one of the coauthors of the book Learn with Play – 150+ Activities for Year-round Fun & Learning!