Are you looking for ways to help your family and yourself become healthier? I know I always love it when I find healthy ideas that work. I'm excited to share something with you that will help improve your family's health … at an amazingly low price! Don't miss the Ultimate Healthy Living Bundle (only available for 6 days … until Monday, September 26) if you're looking for some fantastic health and fitness ideas (and yummy, healthy recipes)!
Disclosure: This post contains affiliate links (at no cost to you)!
Stephanie and her team have put together the popular Ultimate Healthy Living Bundle for the fifth year in a row (yay!). They're amazed at how many families are saying "yes!" to their health (over 64,000 and counting!) and taking them up on this super-short opportunity to get a complete library of natural living resources for one teeny tiny price.
You need to see it to believe it, but the package includes 83 digital products and is worth over $2,400!
For the cost of a small bag of groceries, you'll get a complete healthy living library to help you:
prepare whole & delicious real food
get the toxins out of your house for good
understand and use natural remedies
breathe new life into your exercise habits
learn about important women's health issues
raise exceptionally healthy kids in an unhealthy world
plus learn about gardening & homesteading, meal planning, weight loss and so much more!
Look at what you'll get:
Plus, it comes with over $250 worth of bonus offers, including:
1. Bloom Naturals – $15 gift certificate toward any product ($15 value)
2. Perfect Supplements – $15 gift certificate toward any Perfect Brand product ($15 value)
3. TriLight Health – $15 off select TriLight products ($15 value)
4. MadeOn Skin Care – FREE BeeCool Muscle Balm Stick and Natural Lip Balm Combo (value $15.25)
5. The Maca Team – FREE Organic Gelatinized Yellow Maca Powder, 8 oz. ($15.44 value)
6. Primal Life Organics – FREE 1-ounce jar of Dirty Mouth Toothpowder ($15.97 value)
7. Get Kombucha – FREE 2-week supply (15 ml) of Kombucha Pro: Liquid Probiotics (value $29.99) AND/OR a FREE 1-ounce bag of 8. Get Kombucha's Custom Organic Kombucha Tea Blend (value $15.99)
9. Orglamix – FREE Mineral Eye Shadow Trio ($18 value)
10. Experience Life – 4 FREE digital guides (value $29.99)
11. Grove Co. – FREE Mrs. Meyer's 64 Load Laundry Detergent, Mrs. Meyer's Fabric Softener, 60 Day VIP Trial, and FREE shipping with a $20 minimum purchase for new customers ($32.66 value); FREE 1-year VIP Membership ($39.95 value) for existing customers
12. Meal Garden – 6 months of Meal Garden FREE (value $35.70)
Besides being so incredibly helpful and inspiring, one of the things I like best about the bundle is the price. By offering the bundle for a short time only, they're able to give you access to over $2,400 worth of high-quality eBooks, eCourses and printables for an AMAZING 98% off!
Here's how it works:
Visit their website, take a quick look at all the goodness that comes in this package, then click the green "Buy now!" button to go through their simple and secure 3-step checkout process.
You'll receive an email with a login to their online access portal, where you'll begin downloading your eBooks, signing up for your eCourses, and redeeming your free bonus offers.
Use their Getting Started Guide to pick the topic you want to tackle first and start making healthy changes!
The most important detail, though, is that this bundle is available for just six days! After Monday night, September 26th, the sale ends and you'd have to buy all of these products individually.
It's even backed by a full money-back happiness guarantee, so you can make sure it's right for you.
No one should have to put off a healthier lifestyle because it costs too much or they can't get the help they need.
Get what you need for your healthy lifestyle. Learn more or get your bundle HERE
(Psst… the bundle goes away at 11:59pm Eastern on Monday, September 26th, so don't wait!)
Yes, it's only $29.97 (PDF), $39.97 (eReader)!!!

Healthy living has made a huge difference for my family. Even though I've been focusing on healthy living for over 40 years, I'm always looking for new ideas.  I've already purchased my bundle! It is awesome! I can't wait to try some of the healthy, gluten-free desserts with no refined flours or sugars. 🙂
Please join me!

Wondering where it's best to follow me?
If you're interested in kid-related content, sign up for the Living Montessori Now newsletter. I share my Bits of Positivity parenting and character-education posts in the weekly Living Montessori Now newsletter along with lots of great kids' activities and Montessori ideas from my Living Montessori Now blog. You'll get a monthly freebie (and previous monthly freebies) with link and password if you subscribe to the Living Montessori Now weekly newsletter!

If you're interested in inspiration and motivation, the best place for you will probably be the Bits of Positivity Facebook page. You'll find lots of inspiration there from the Bits of Positivity blog and from around the Internet. For word art inspiration, be sure to follow me at the Bits of Positivity Facebook page and on Pinterest! And for all my posts in a reader, check out Bloglovin'! Thanks so much!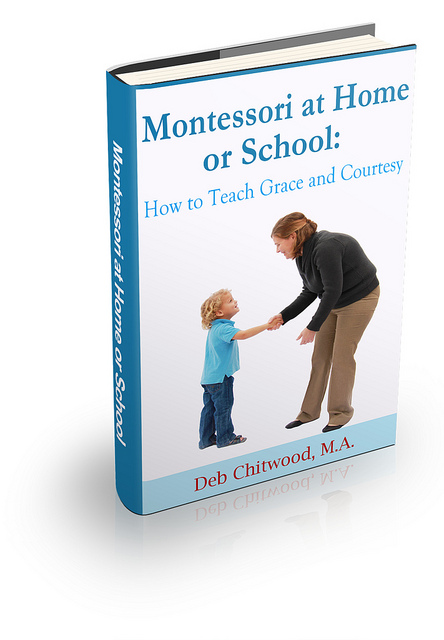 Learn more about my eBook Montessori at Home or School: How to. Teach Grace and Courtesy! I'm also one of the coauthors of the book Learn with Play – 150+ Activities for Year-round Fun & Learning!