Love quotes are appropriate not only in February but at any time. Rather than focusing on romantic love, I want to share unconditional love quotes … what the best romantic love (or any type of love) is about anyway.
Here are my favorite unconditional love quotes (with the exception of quotes from the world's holy books):
"Unconditional love is the greatest gift of all." Sylvia Massara, The Soul Bearers
"The only love worthy of a name is unconditional." John Powell
 "The only way love can last a lifetime is if it's unconditional. The truth is this: love is not determined by the one being loved but rather by the one choosing to love." Stephen Kendrick, The Love Dare
"Unconditional love, agape love, will not be swayed by time or circumstances." Stephen Kendrick, The Love Dare
"The beginning of love is to let those we love be perfectly themselves, and not to twist them to fit our own image. Otherwise we love only the reflection of ourselves we find in them." Thomas Merton
"Truly loving another means letting go of all expectations. It means full acceptance, even celebration of another's personhood." Karen Casey
"This fire that we call Loving is too strong for human minds. But just right for human souls." Aberjhani, Elemental: The Power of Illuminated Love
 "Accept the children the way we accept trees—with gratitude, because they are a blessing—but do not have expectations or desires. You don't expect trees to change, you love them as they are." Isabel Allende
"Love… What is love? Love is to love someone for who they are, who they were, and who they will be." Chris Moore
"The greatest gift that you can give to others is the gift of unconditional love and acceptance." Brian Tracy
"Intense love does not measure, it just gives." Mother Teresa
"I believe that unarmed truth and unconditional love will have the final word in reality. This is why right, temporarily defeated, is stronger than evil triumphant." Martin Luther King, Jr.
 "To give and not expect return, that is what lies at the heart of love." Oscar Wilde
"Only when we give joyfully, without hesitation or thought of gain, can we truly know what love means." Leo Buscaglia
"You can give without loving, but you cannot love without giving." Amy Carmichael.
"I have found the paradox, that if you love until it hurts, there can be no more hurt, only more love." Mother Teresa
 "Love has nothing to do with what you are expecting to get–only with what you are expecting to give–which is everything." Katherine Hepburn
"Love is, above all, the gift of oneself." Jean Anouilh
"Love is the doorway through which the human soul passes from selfishness to service." Unknown.
 "He who is devoid of the power to forgive, is devoid of the power to love." Martin Luther King, Jr.
"Do all things with love." Og Mandino
"Love creates an 'us' without destroying a 'me.'" Unknown.
 "Where there is great love there are always miracles." Willa Cather.
"All, everything that I understand, I understand only because I love." Leo Nikolaevich Tolstoy.
"Where there is love there is life." Mahatma Gandhi.
"Since love grows within you, so beauty grows. For love is the beauty of the soul." St. Augustine.
"What we have once enjoyed we can never lose. All that we love deeply becomes a part of us." Helen Keller.
"Once you have learned to love, you will have learned to live." Unknown.
 "Love is its own reward." Thomas Merton.
"A joyful heart is the inevitable result of a heart burning with love." Mother Teresa.
"The ultimate lesson all of us have to learn is unconditional love, which includes not only others but ourselves as well." Elisabeth Kubler-Ross
 "Love is life…and if you miss love, you miss life." Leo Buscaglia.
"All you need is love." The Beatles
What is your favorite unconditional love quote?
"All You Need Is Love" Word-Art Freebie
Image near bottom of post by Alice Popkorn at Flickr Creative Commons.
Image at top of post by Michael De Laet.

Wondering where it's best to follow me?
If you're interested in kid-related content, sign up for the Living Montessori Now newsletter. I share my Bits of Positivity parenting and character-education posts in the weekly Living Montessori Now newsletter along with lots of great kids' activities and Montessori ideas from my Living Montessori Now blog. You'll get a monthly freebie (and previous monthly freebies) with link and password if you subscribe to the Living Montessori Now weekly newsletter!

If you're interested in inspiration and motivation, the best place for you will probably be the Bits of Positivity Facebook page. You'll find lots of inspiration there from the Bits of Positivity blog and from around the Internet. For word art inspiration, be sure to follow me at the Bits of Positivity Facebook page and on Pinterest! And for all my posts in a reader, check out Bloglovin'! Thanks so much!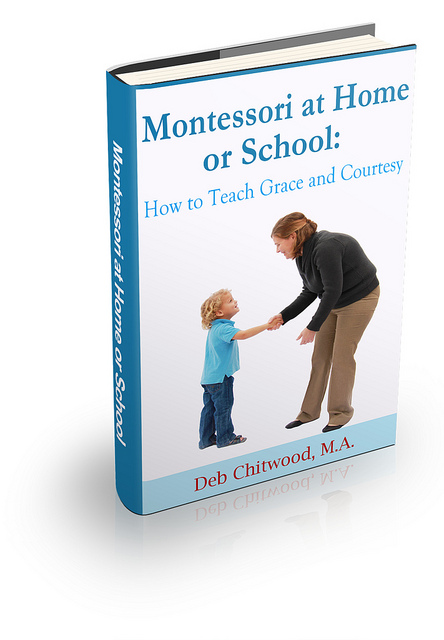 Learn more about my eBook Montessori at Home or School: How to. Teach Grace and Courtesy! I'm also one of the coauthors of the book Learn with Play – 150+ Activities for Year-round Fun & Learning!