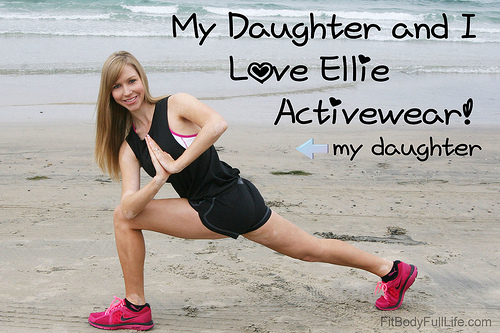 My daughter, Christina, and I were given the opportunity to review some activewear by Ellie. Christina specializes in fitness, and I'm a mom who values fitness and works out at least three days each week. So we couldn't pass up the opportunity!
Disclosure: I received two items from Ellie to provide an honest review. My opinions are my own. This post also contains affiliate links (at no cost to you).
Ellie has a new collection each month and two ways you can order: as a member of the Fit Fashionista Club where you get 2 items of your choice for only $49.95 per month or by purchasing individual items as a non-member.
My husband and I just returned from visiting our kids/kids-in-love in San Diego, so Christina and I were able to have some fun at La Jolla Shores while Christina modeled her new Ellie Under Your Spell sports bra and Peek-a-Boo Tank from the February collection. She had ordered 2 tops as her items to review, so she's just wearing some Victoria's Secret sports shorts along with the Ellie tops.
Be sure to check out Christina's Fitness Fun with Ellie Activewear at Fit Body Full Life to read Christina's review and see a 5-photo collage of Christina at the beach.
I had the After Dark Tank and Kiss Me Capris waiting for me when I arrived back in Colorado Springs yesterday. Christina will model them within a couple of weeks. Watch for that post, too!
I was a bit worried as a 50-something mom that some of the styles might look too young for me. But I LOVED the items I received. I don't typically wear sleeveless tops, so I couldn't believe how cute the top looks on me. And there are short-and long-sleeved tops for fashionable versions of styles I would normally wear. Ellie size small fits both Christina and me perfectly, so we can even share our fitness clothes!
Activewear Resources
Update: Ellie Activewear is no longer available. (Note: The new Ellie Activewear is a different company.) You can find lots of great activewear on Amazon or recommended on ChristinaChitwood.com!
I have lots of quotes and word-art inspiration at the BitsofPositivity Facebook page and on Pinterest!