Having an attitude of gratitude is one of the best things kids can have. Adults, too.
Disclosure: This post contains some affiliate links (at no cost to you).
Suggestions on how to raise grateful kids:
I've talked before about how gratitude can help families in sports: "Let Gratitude Carry You through the Competition Season." Of course, gratitude isn't just for sports families … an attitude of gratitude can help any kids and any family.
"When we give cheerfully and accept gratefully, everyone is blessed." Maya Angelou
"Jack Canfield – How Gratitude Changed This Multi-Millionaire's Life." The beginning of this video is a truly inspiring story of the power of gratitude. The story is thought-provoking for both kids and adults.
Ann Voskamp, the author of One Thousand Gifts: A Dare to Live Fully Right Where You Are
, wrote a great post  called "When You're Tired of Kids Complaining: 15 Ways to Happier, Grateful Kids."
She cites research that shows how kids benefit from an attitude of gratitude:
Better attitudes
More likely to achieve personal goals
Closer relationships and greater happiness
Better grades
Greater energy, attentiveness, and enthusiasm
Greater sensitivity to situations where they can be helpful and compassionate
Some of my favorite suggestions for raising grateful kids from Ann Voskamp:
Sing around the table.
Keep a daily gratitude journal or fill out the "7 Gifts" page. (In the post, there's a link to a free printable with spaces for 7 gifts each day. There's also an awesome daily Joy Dare printable)
Write thank-you notes. Have a basket of thank-you notes left out as an invitation to give thanks.
Have your child put a sticky note on a mirror or window telling what he or she is grateful for right now.
Have a No Complaining Day.
Be sure to read Ann Voskamp's post to get all the details and free printables.
Here's a helpful YouTube video of an interview with Dr. Christine Carter from the Greater Good Science Center on changing your kids' attitude with gratitude.
Some of my favorite points from the video "Change Your Kids' Attitude With Gratitude":
Happiness is in many respects a skill that parents can teach their children, and the relationship between gratitude and happiness is really strong. – Greater Good Science Center's Dr. Christine Carter
Christine Carter talks about giving kids a lens through gratitude glasses. She recommends practicing gratitude daily or even once a week through activities such as the following:
Keep a gratitude journal.
Keep a family gratitude list (post it on the refrigerator).
Go around the table and have each person say something they're grateful for.
When you put your kids to bed, have them tell you three good things that happened to them or that they did during the day.
Write gratitude letters (letters to someone who has done something for your child that has gone unthanked).
Christine Carter says that people who practice gratitude become more helpful and feel happier, stronger, more energized, and more determined.
Links to other ideas that can help your kids have an attitude of gratitude.
Just choose whichever gratitude activities work best for your family.

Gratitude Word-Art Freebie (without watermark)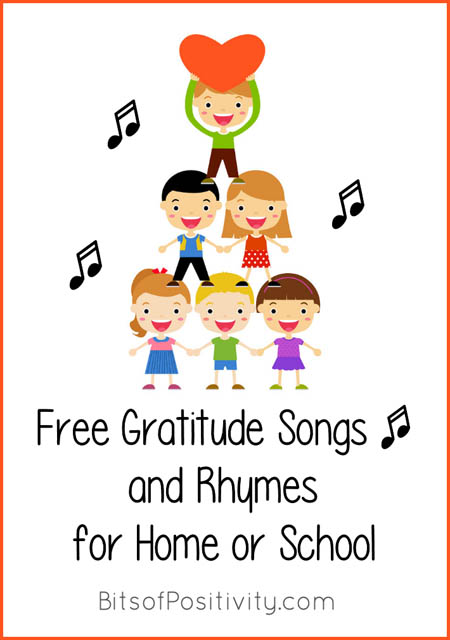 Free Gratitude Songs and Rhymes for Home or School
20+ Family Gratitude Activities
I have many more posts about gratitude.
Do you have a favorite way to help your kids have an attitude of gratitude?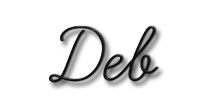 Wondering where it's best to follow me?
If you're interested in kid-related content, sign up for the Living Montessori Now newsletter. I share my Bits of Positivity parenting and character-education posts in the weekly Living Montessori Now newsletter along with lots of great kids' activities and Montessori ideas from my Living Montessori Now blog. You'll get a monthly freebie (and previous monthly freebies) with link and password if you subscribe to the Living Montessori Now weekly newsletter!

If you're interested in inspiration and motivation, the best place for you will probably be the Bits of Positivity Facebook page. You'll find lots of inspiration there from the Bits of Positivity blog and from around the Internet. For word art inspiration, be sure to follow me at the Bits of Positivity Facebook page and on Pinterest! And for all my posts in a reader, check out Bloglovin'! Thanks so much!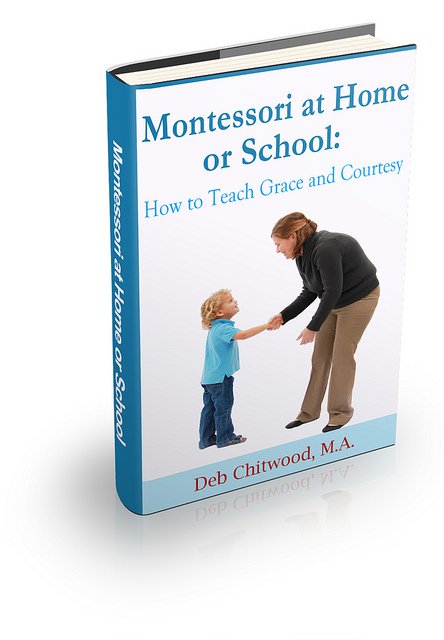 Learn more about my eBook Montessori at Home or School: How to. Teach Grace and Courtesy!
May be linked to Mommy Monday, Lou Lou Girls, Tasty Tuesdays, A Little Bird Told Me Linky Party, Saturday Sharing