How to help your kids have an attitude of gratitude can't be covered in one post … or two. But I've put together lots of resources within my post called "How to Help Your Kids Have an Attitude of Gratitude." And I have many more resources for you here.
I think gratitude is important year-round, but November is a perfect month to place an extra emphasis on gratitude. Maybe there are some gratitude activities you'd like to start for your family. Or maybe you'd like to do something different just for the month.
Family Gratitude Activities
Here are some more family gratitude activities you could choose from. Just find the activity you feel drawn to, an activity you think would be fun and meaningful for your family.
"Gratitude Dance" This is just fun, and a gratitude dance is an activity that could work well if your family loves to move and dance together. It's wonderful to do throughout the year. If you aren't already doing it in November, this would be a great time to start!
Light a Candle from Gratefulness.org is a beautiful online activity that encourages thoughtfulness and thankfulness.
Kristina Belnap at Parent Guide News has an article called "Attitude of Gratitude." Her suggestions are to:
Model Gratitude
Expect your child to show gratitude.
Go guilt-free.
Commit random (but regular) acts of service and gratitude.
November is an ideal time to focus on making these suggestions a natural part of your life.
I have a post at Living Montessori Now called "Montessori-Inspired Gratitude Activities" with links to lots of resources.

Gratitude Word-Art Freebie (without watermark)
The Best Gratitude Books for Kids has lots of great books for a variety of ages!
I have a post here with lots of November family gratitude activities of all kinds.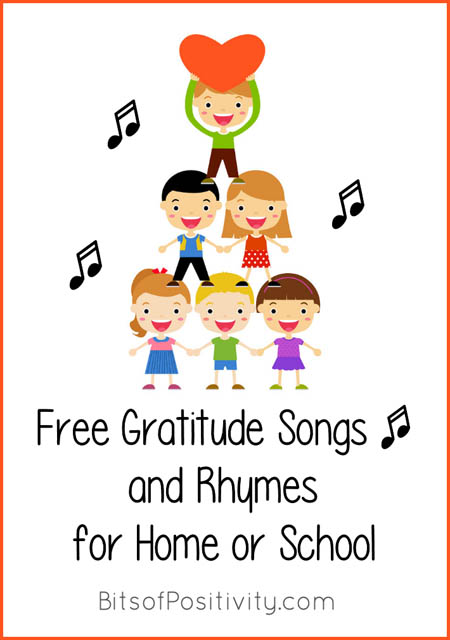 You'll find some Thanksgiving gratitude songs in my roundup of free gratitude songs and rhymes for home or school.
Check out my gratitude post with 30+ free Thanksgiving gratitude printables for kids!
Update: Here are some more gratitude posts:
And I keep adding family gratitude activities along with other Thanksgiving activities to my Kids' Thanksgiving Activities Pinterest board. There are links to posts for a Thanksgiving tree (many different types of Thanksgiving tree), gratitude journal, gratitude bowl, gratitude jar, gratitude board, and gratitude garland. I love that Pinterest is so visual. Hopefully, you'll find an activity that appeals to you.
Wondering where it's best to follow me?
If you're interested in kid-related content, sign up for the Living Montessori Now newsletter. I share my Bits of Positivity parenting and character-education posts in the weekly Living Montessori Now newsletter along with lots of great kids' activities and Montessori ideas from my Living Montessori Now blog. You'll get a monthly freebie (and previous monthly freebies) with link and password if you subscribe to the Living Montessori Now weekly newsletter!

If you're interested in inspiration and motivation, the best place for you will probably be the Bits of Positivity Facebook page. You'll find lots of inspiration there from the Bits of Positivity blog and from around the Internet. For word art inspiration, be sure to follow me at the Bits of Positivity Facebook page! Thanks so much!