This is the year I'm hoping to get organized in many areas of my life … including meal planning and fitness routines. I'm excited to have the perfect planner to organize everything in one place … digitally! Let me tell you about The Ultimate Health and Fitness Planner 2016!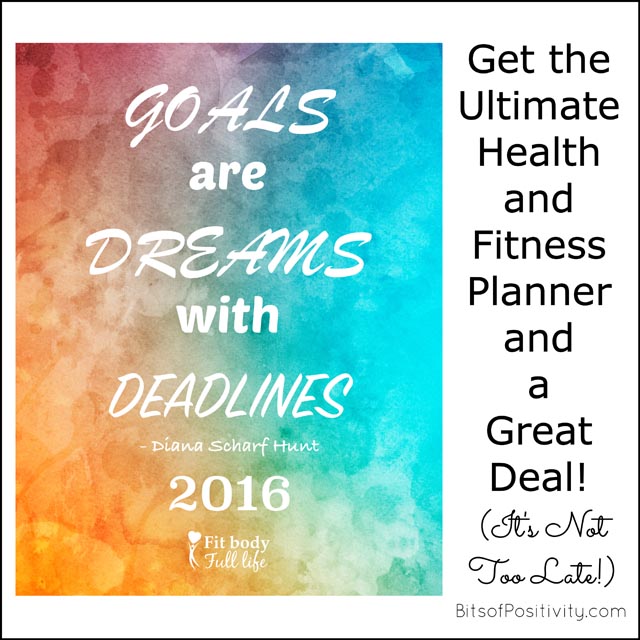 I'm not a person who can regularly keep up-to-date with a diary or any sort of paper schedule/to-do list. I finally found a way that I could keep track of my basic appointments … through Google Calendar. That's worked great with my basic appointments, and I've actually kept it up since the summer of 2012 (not perfectly, but not too badly, either)! But I've been wanting to find a way online to keep track of much more for a totally integrated wellness approach to my life.
The Ultimate Health and Fitness Planner 2016
Who would come up with what I needed but my daughter, Christina Chitwood from Fit Body Full Life! 2016 has already started, but that just means that you'll get an even better deal on this amazing digital planner. Christina is a fitness expert and has been my personal trainer for a number of years. She also choreographs my favorite workouts (available on YouTube).
Christina listened to what I wanted along with what she, her husband, Tom, and their fans wanted. She came up with The Ultimate Health and Fitness Planner 2016.
As requested, The Ultimate Health and Fitness Planner is totally fillable, which means you don't need to print out or write anything … although you could print out and write on the pages monthly, weekly, or daily if you wish.
This is what you can get for only $9.95 ($14.95 originally):
Forms for
Yearly Goals
Yearly To-Do List
Monthly Calendar
Monthly Schedule
Monthly Goals
Monthly To-Do List
Monthly Weight, Body Fat, and Measurement Tracking
Weekly To-Do List
Weekly Meal Plan
Weekly Grocery Shopping List
Daily Places to Record

Gratitude
Goals
Workouts
Meditation
Sleep
Food Intake
Water Intake
Vitamins and Supplements
To-Do-List
Schedule
Social Media
As you can imagine, that's a LOT of pages … 963 pages to be exact! There are bookmark tabs to easily get to the page you need, though.
Get your Ultimate Health and Fitness Planner 2016
I'm one proud and happy mom … and one person who's getting more organized by the day!
Get your Ultimate Health and Fitness Planner 2016 for only $9.95!
Wishing you a happy, healthy, organized year! 🙂

Learn more about my book, Montessori at Home or School: How to Teach Grace and Courtesy!
Note: I have lots of word-art inspiration at the Bits of Positivity Facebook page and on Pinterest!