We want our kids to have an attitude of gratitude … and we want to be grateful, too. But it isn't always easy. I'm a real fan of music to help with many skills as well as character education. What fun to have a house or classroom filled with songs of gratitude (not the worst things to be running through your head, either!).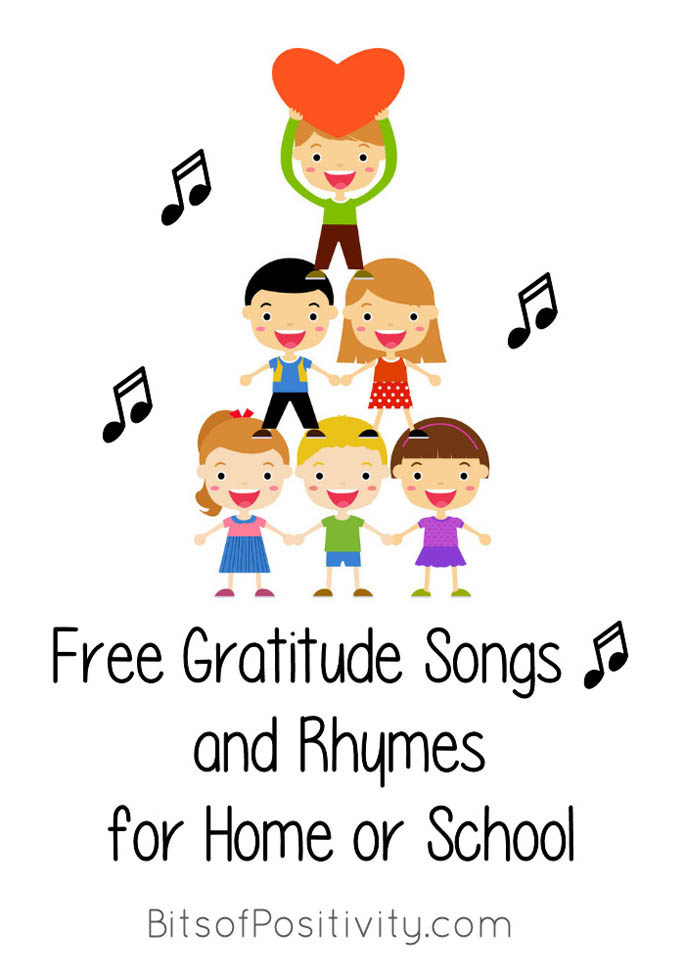 Free Thank You Songs and Rhymes for Home or Classroom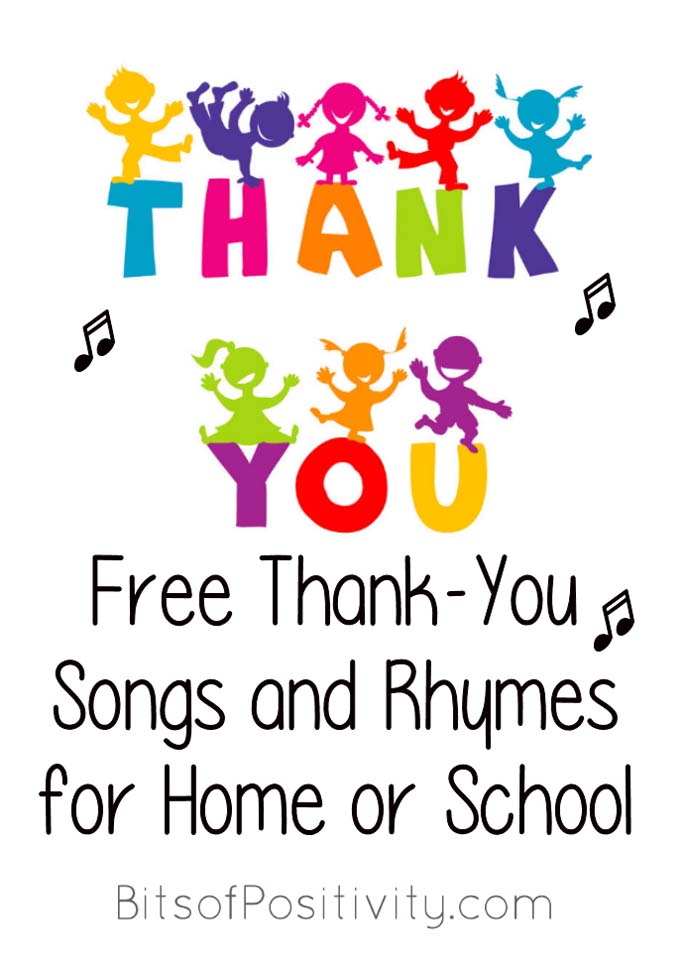 I already have a post with free thank-you songs and rhymes for home or school. Those songs are about thanking people … something that's always important.
Free Gratitude Songs and Rhymes for Home or Classroom – YouTube Videos
I've organized the gratitude songs into general gratitude songs, Thanksgiving gratitude songs, and religious gratitude songs.
Year-Round Gratitude Songs on YouTube
"I Am Thankful" – A Song for Children by Bubbly Vee (a Thanksgiving song that works at any time of year)

"If You're Happy and You Know It" – Barefoot Books

Spongebob Squarepants – "Attitude of Gratitude"

BUG! sings "Attitude of Gratitude" (The Swinging Belles) led by Sue & Sharon

Another version of "Attitude of Gratitude" by The Swinging Belles
Gratitude song featuring Children of the Rainbow Drum Group

"Attitude of Gratitude" – Zippity2Dads

"Grateful: A Love Song to the World" – emptyhandsmusic

Teacher Appreciation Song: A Song for Teachers – "You Have Made A Difference" by Brian Asselin

Thanksgiving Gratitude Songs
Thanksgiving Song for kids – "Attitude Of Gratitude" | DidiPopMusic

Thanksgiving Song for Kids: "What are you thankful for?" Genki English

"I'm Thankful" – a Thanksgiving song for children

"Thank You for Thanksgiving," Happy Thanksgiving from the StoryBots

"Don't Be a Turkey, Just Say Thanks" (song for Christian kids) by Yancy

Thanksgiving Song-I'm Thankful For What I've Got"

Thanksgiving Song "You've Been Blessed" – www.libbyallensongs.com Christian Music

Religious Gratitude Songs (Most, but not all, are Christian songs)
"Thank You God" – Nursery Rhyme with Karaoke

"Thank You Lord for Making Me" (Lyrics Video)

"Thank You Lord For Making Me" (With Actions)

"I Just Want to Thank You Lord" (Kids)(Lyrics) (Sunday School Jamz)

VeggieTales – "The Thankfulness Song"

American Legends Volume 1: Johnny Appleseed by Disney Educational Productions (This is the whole segment about Johnny Appleseed. If you just want the song, go to minute 2:00.)

"Thankful"

"Thank You Jesus" Lyrics – That Christian Channel

Songs for Kids Online – "Thankfulness" by Remba Kids

"Thank You" – The Katinas (Lyric)

"Thank You Lord" – Don Moen

"Thankful" – The Power of Gratitude, Praise, Worship, Adoration, Appreciation

Gratitude Songs, Rhymes, and Fingerplays with Lyrics
ALL THE POSTS IN THE FREE CHARACTER EDUCATION VIDEOS SERIES HERE AT MY BITS OF POSITIVITY BLOG
ALL THE POSTS IN THE FREE SONGS FOR CIRCLE TIME SERIES AT MY LIVING MONTESSORI NOW BLOG
Free Songs about Skills and Concepts
Free Unit Study Songs
Free Seasonal and Holiday Songs
Free Video Resources Posts
I hope you find these helpful!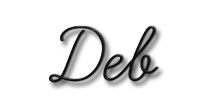 Wondering where it's best to follow me?
If you're interested in kid-related content, sign up for the Living Montessori Now newsletter. I share my Bits of Positivity parenting and character-education posts in the weekly Living Montessori Now newsletter along with lots of great kids' activities and Montessori ideas from my Living Montessori Now blog. You'll get a monthly freebie (and previous monthly freebies) with link and password if you subscribe to the Living Montessori Now weekly newsletter!

If you're interested in inspiration and motivation, the best place for you will probably be the Bits of Positivity Facebook page. You'll find lots of inspiration there from the Bits of Positivity blog and from around the Internet. For word art inspiration, be sure to follow me at the Bits of Positivity Facebook page and on Pinterest! And for all my posts in a reader, check out Bloglovin'! Thanks so much!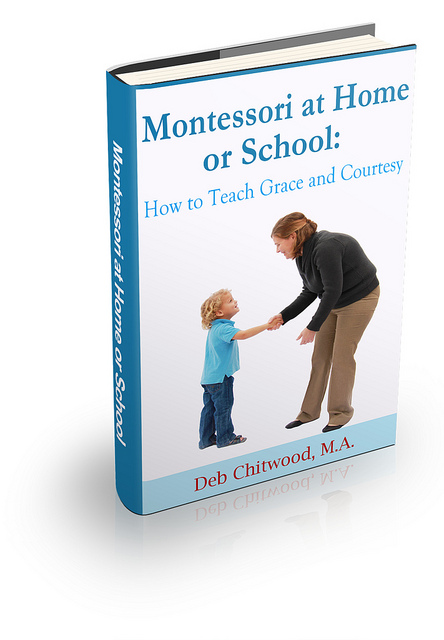 Learn more about my eBook Montessori at Home or School: How to. Teach Grace and Courtesy!