You might have noticed that I'm a bit obsessed with kindness activities. As proud as I was of my children, I was probably the proudest of the fact that my kids were kind kids and became kind adults. We focused on Montessori principles and character education a lot throughout our homeschooling. With my 3-year-old granddaughter, Zoey, I've used both Montessori principles and the Kindness Elves to focus on kindness and good character.
There's a new picture book that can work well with or without the Kindness Elves to encourage kindness – the We're all Wonders picture book.
Disclosure: This post contains affiliate links (at no cost to you).
Encourage Kindness with the We're All Wonders Picture Book
The original Wonder, #1 New York Times bestseller by R.J. Palacio was written for children ages 8-12. Of course, many adults have fallen in love with the story of Auggie Pullman, "an ordinary boy with an extraordinary face." Wonder has even become the basis of Choose Kind (#ChooseKind), a kindness program used in many classrooms.


Now there's a picture book about Auggie's world that's recommended for children ages 4-8 (although my 3-year-old granddaughter loves it): We're All Wonders. It shows young children the importance of kindness even when someone looks or acts different from most people.
Encourage Kindness with the We're All Wonders Picture Book and The Kindness Elves
You can use the book with the Kindness Elves to place extra focus on kindness. It's a nice way to use the Kindness Elves at any time of year. We've used the Kindness Elves for many different kindness projects, so this seemed to be a natural extension to our kindness activities.
You could add a note, something like "Let's be kind to everyone – even if they look very different from us." Or you could just talk about what the Kindness Elves would say.
Zoey was fascinated about a book showing a boy with one eye. (Note: Auggie doesn't really have one eye. You'll need to read Wonder to find out what he looks like.)
After I read the book to her, Zoey spent time looking at the book on her own. It was a good reminder that we need to be kind to people no matter how they look. I've added the book to one of our book baskets, It's a wonderful addition to my home library.
The Ultimate Guide to Kindness Elves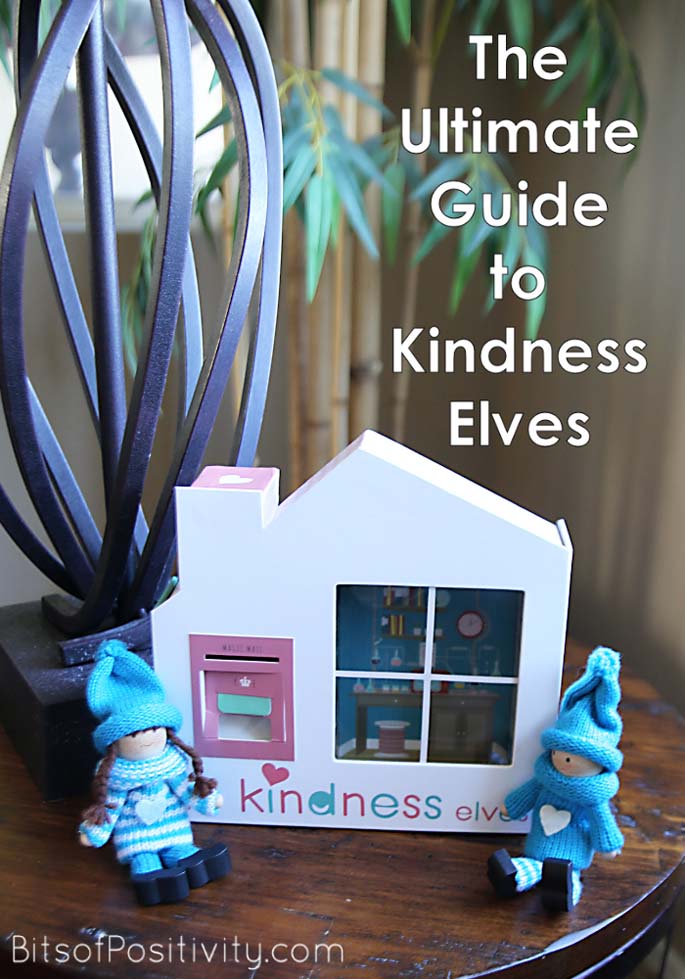 You can find links to all of my Kindness Elf posts in my Ultimate Guide to Kindness Elves post.




Have you and/or your children or students read any of the Wonder books?
Wondering where it's best to follow me?
If you're interested in kid-related content, sign up for the Living Montessori Now newsletter. I share my Bits of Positivity parenting and character-education posts in the weekly Living Montessori Now newsletter along with lots of great kids' activities and Montessori ideas from my Living Montessori Now blog. You'll get a monthly freebie (and previous monthly freebies) with link and password if you subscribe to the Living Montessori Now weekly newsletter!

If you're interested in inspiration and motivation, the best place for you will probably be the Bits of Positivity Facebook page. You'll find lots of inspiration there from the Bits of Positivity blog and from around the Internet. For word art inspiration, be sure to follow me at the Bits of Positivity Facebook page and on Pinterest! And for all my posts in a reader, check out Bloglovin'! Thanks so much!
Learn more about my eBook Montessori at Home or School: How to. Teach Grace and Courtesy!