Screen-Free Week happens each year now. But I don't want you to feel shamed if you haven't been participating or participating as fully as you'd like. Many of us work online or have school assignments online that prevent us from participating fully. And others just don't feel ready to give up screen time.
This post isn't about shaming. It simply acknowledges that most of us would like to have less screen time. It's about giving us inspiration to find the right balance in our life and family.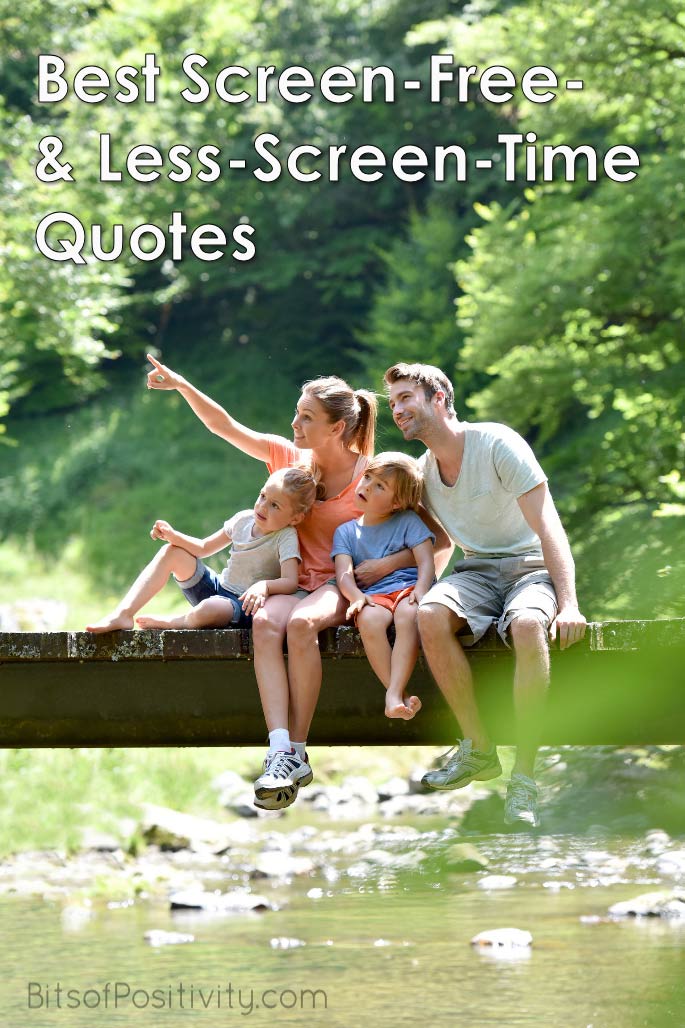 That said, here are some of my favorite quotes with screen-free and less-screen-time inspiration:
"There's no WiFi in the forest, but you'll find a better connection." Author Unknown
"I introduced the term nature-deficit disorder—not as a medical diagnosis but as a way to describe the growing gap between children and nature. By its broadest interpretation, nature-deficit disorder is an atrophied awareness, a diminished ability to find meaning in the life that surrounds us. When we think of the nature deficit, we usually think of kids spending too much time indoors plugged into an outlet or computer screen. But after the book's publication, I heard adults speak with heartfelt emotion, even anger, about their own sense of loss." Richard Louv
"Why do so many Americans say they want their children to watch less TV, yet continue to expand the opportunities for them to watch it? More important, why do so many people no longer consider the physical world worth watching?" Richard Louv, Last Child in the Woods: Saving Our Children from Nature-Deficit Disorder
"Unlike television, nature does not steal time; it amplifies it. Nature offers healing for a child living in a destructive family or neighborhood." Richard Louv, Last Child in the Woods: Saving Our Children from Nature-Deficit Disorder
"I find television very educating. Every time somebody turns on the set, I go into the other room and read a book." Groucho Marx
"What would our lives be like if our days and nights were as immersed in nature as they are in technology?" Richard Louv, The Nature Principle: Human Restoration and the End of Nature-Deficit Disorder
"Technology: 'the knack of so arranging the world that we don't have to experience it.'" Max Frisch, c.1960s
"Sometimes you have to disconnect to stay connected. Remember the old days when you had eye contact during a conversation? When everyone wasn't looking down at a device in their hands? We've become so focused on that tiny screen that we forget the big picture, the people right in front of us." Regina Brett
"If it keeps up, man will atrophy all his limbs but the push-button finger." Frank Lloyd Wright
"I have come to the feeling about television the way I do about hamburgers: I eat a lot of hamburgers and I don't remember a single one of them." John Barrow, 1973
"All television is educational television. The question is: what is it teaching?" Nicholas Johnson
"So please, oh please, we beg, we pray,
Go throw your TV set away,
And in its place you can install
A lovely bookshelf on the wall.
Then fill the shelves with lots of books."
Roald Dahl, Charlie and the Chocolate Factory
"If everyone demanded peace instead of another television set, then there'd be peace." John Lennon
"I had a life once… now I have a computer." Author Unknown
"A journey of a thousand sites begins with a single click." Author Unknown
"TV. If kids are entertained by two letters, imagine the fun they'll have with twenty-six. Open your child's imagination. Open a book." Author Unknown
"If it weren't for the fact that the TV set and the refrigerator are so far apart, some of us wouldn't get any exercise at all." Joey Adams
"Television: A medium – so called because it is neither rare nor well done." Ernie Kovacs
"If you came and you found a strange man… teaching your kids to punch each other, or trying to sell them all kinds of products, you'd kick him right out of the house, but here you are; you come in and the TV is on, and you don't think twice about it." Jerome Singer
"Technology… is a queer thing. It brings you great gifts with one hand, and it stabs you in the back with the other." C.P. Snow, New York Times, March 15, 1971
"I like my new telephone, my computer works just fine, my calculator is perfect, but Lord, I miss my mind!" Author Unknown
"Everything is for the eye these days – TV, Life, Look, the movies. Nothing is just for the mind. The next generation will have eyeballs as big as cantaloupes and no brain at all." Fred Allen
"The triumph of machine over people," Fred Allen (about television)
"Theatre is life. Cinema is art. Television is furniture." Author Unknown
"If you read a lot of books, you're considered well-read. But if you watch a lot of TV, you're not considered well-viewed." Lily Tomlin
"Television is an invention that permits you to be entertained in your living room by people you wouldn't have in your home." David Frost
"Television has changed a child from an irresistible force to an immovable object." Author Unknown
"Kids don't remember their best day of television." Author Unknown
"Some days, we just need to turn the quiet up." Dr. SunWolf
"Fresh air impoverishes the doctor." Danish Proverb
"Rejoice with your family in the beautiful land of life!" Albert Einstein
My Posts About Parenting and Technology
Have fun finding your balance! 🙂
Amazon Affiliate:


Wondering where it's best to follow me?
If you're interested in kid-related content, sign up for the Living Montessori Now newsletter. I share my Bits of Positivity parenting and character-education posts in the weekly Living Montessori Now newsletter along with lots of great kids' activities and Montessori ideas from my Living Montessori Now blog. You'll get a monthly freebie (and previous monthly freebies) with link and password if you subscribe to the Living Montessori Now weekly newsletter!

If you're interested in inspiration and motivation, the best place for you will probably be the Bits of Positivity Facebook page. You'll find lots of inspiration there from the Bits of Positivity blog and from around the Internet. For word art inspiration, be sure to follow me at the Bits of Positivity Facebook page and on Pinterest! And for all my posts in a reader, check out Bloglovin'! Thanks so much!
Learn more about my eBook Montessori at Home or School: How to. Teach Grace and Courtesy!