Today is Earth Day, and that's something we all need to ponder, respect, and celebrate. I hope you find a way to experience and treasure some time outdoors in nature. If you have an idea to help the earth, follow it.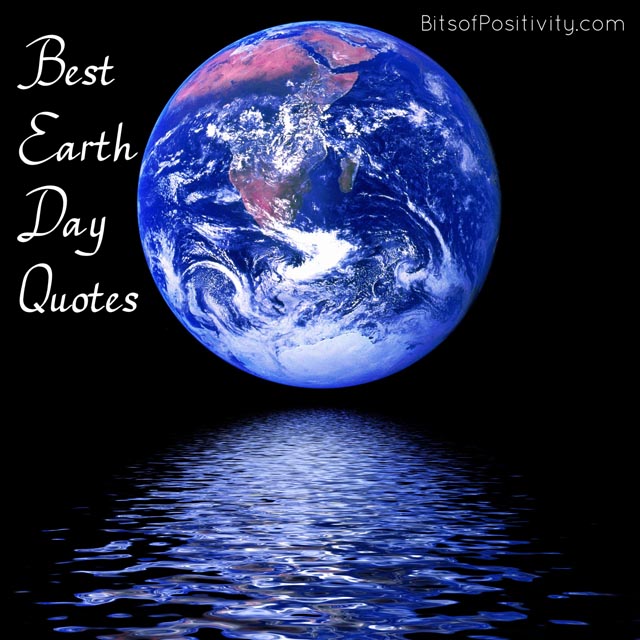 Here are my favorite Earth Day quotes:
"… do something. Pay your rent for the privilege of living on this beautiful, blue-green, living Earth." Dave Foreman
"Man must feel the earth to know himself and recognize his values…. God made life simple. It is man who complicates it." Charles A. Lindbergh
"There must be a reason why some people can afford to live well. They must have worked for it. I only feel angry when I see waste. When I see people throwing away things we could use." Mother Teresa
"Earth provides enough to satisfy every man's need, but not every man's greed." – Mahatma Gandhi
"We have met the enemy and he is us." Walt Kelly
"I really wonder what gives us the right to wreck this poor planet of ours." Kurt Vonnegut Jr.
"What is the use of a house if you haven't got a tolerable planet to put it on?" Henry David Thoreau
"Nature, to be commanded, must be obeyed." Francis Bacon


"There are no passengers on Spaceship Earth. We are all crew." Marshall McLuhan
"I'm not an environmentalist. I'm an Earth warrior." Darryl Cherney
"Most of us are familiar with recycle and reusing, but how often do we think of the third R – REDUCE? 'Reduce' is probably the most important of the three Rs because, if we reduced, it would limit the need to recycle and reuse." Catherine Pulsifer
"Use it up, wear it out, make it do, or do without."  Proverb
"The proper use of science is not to conquer nature but to live in it." Barry Commoner
"He that plants trees loves others besides himself." Thomas Fuller
"The earth is what we all have in common." Wendell Berry
"It is our collective and individual responsibility to protect and nurture the global family, to support its weaker members and to preserve and tend to the environment in which we all live." Dalai Lama
"To see a world in a grain of sand, And a heaven in a wild flower, Hold infinity in the palm of your hand, And eternity in an hour." William Blake
"Forget not that the earth delights to feel your bare feet, and the winds long to play with your hair." Kahlil Gibran
"Climb the mountains and get their good tidings. Nature's peace will flow into you as sunshine flows into trees. The winds will blow their own freshness into you, and the storms their energy, while cares will drop off like autumn leaves." John Muir
"There is hope if people will begin to awaken that spiritual part of themselves, that heartfelt knowledge that we are caretakers of this planet." Brooke Medicine Eagle
We do not inherit the earth from our ancestors; we borrow it from our children." Native American Proverb
"Every day is Earth Day" Author Unknown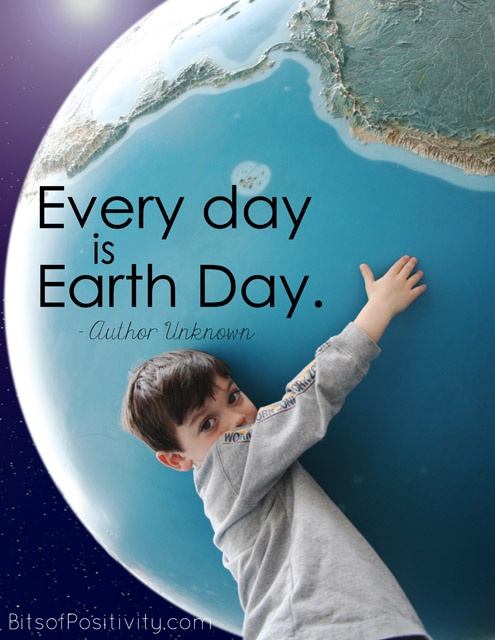 "Every Day Is Earth Day" Word Art Freebie
More Earth Day (Earth Day Every Day) Resources for Families and Teachers
Don't miss our themed monthly packs! You'll get  the link and password for the Living Montessori Now subscriber library with the current pack and all the past monthly packs if you subscribe to the Living Montessori Now weekly newsletter!
What is your favorite Earth Day quote?
Wondering where it's best to follow me?
If you're interested in kid-related content, sign up for the Living Montessori Now newsletter. I share my Bits of Positivity parenting and character-education posts in the weekly Living Montessori Now newsletter along with lots of great kids' activities and Montessori ideas from my Living Montessori Now blog. You'll get a monthly freebie (and previous monthly freebies) with link and password if you subscribe to the Living Montessori Now weekly newsletter!

If you're interested in inspiration and motivation, the best place for you will probably be the Bits of Positivity Facebook page. You'll find lots of inspiration there from the Bits of Positivity blog and from around the Internet. For word art inspiration, be sure to follow me at the Bits of Positivity Facebook page and on Pinterest! And for all my posts in a reader, check out Bloglovin'! Thanks so much!
Learn more about my eBook Montessori at Home or School: How to. Teach Grace and Courtesy!
Photo Credit: Earth Day April 22 Image by Laura Pope at Flickr Creative Commons